NOVEMBER 17, 2010
Ricciardo heads rookie test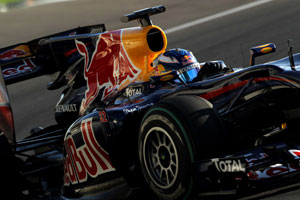 © 2010, WRI2, All rights reserved
Abu Dhabi's F1 rookie test came to a conclusion today with the quickest three drivers, Daniel Ricciardo (Red Bull), Jerome D'Ambrosio (Renault) and Sam Bird (Mercedes) all under Sebastian Vettel's 1m39.394s pole position time from last Saturday, albeit with track conditions estimated to be around 1.5s quicker.
Formula Renault 3.5 series runner-up Ricciardo, from Perth, Australia, said: "It was cool to do this test and great to get so close to the big boys times from the weekend! It's very rare to get a perfect car, but I have to say this is very close. It's a pleasure to drive it - you brake and you turn and the car does everything as you imagine it would. I think I got most of my nerves out of the way before last year's test, so I was more relaxed this time, although you are always a little nervous getting into the car on day one. We did more long runs today, which went well - it's been a great two days and it would be fantastic to get the chance to drive in F1 full-time."
Red Bull's head of race engineering, Ian Morgan added: "Daniel has done a great job for us in the car over the last two days and made no mistakes, we're very happy with him. We completed our programme and got though everything as planned, despite losing some track time this afternoon due to a few red flags that weren't anything to do with Daniel!"
D'Ambrosio had a spin early in the day, which brought out a red flag, but set the second-fastest time at the end of the test after driving with Virgin Racing yesterday, edging out ART GP2 man Bird by 0.04s.
"Sam has worked very well with his engineers and the team over the course of the test, proving himself to be professional and disciplined in the car, with an excellent grasp of our procedures and our requirements from the test programme," Ross Brawn said. "I have been very impressed with his performance and it has been a very useful two days for the team and Sam. I am sure that this experience, both working with the team and driving the car, will prove very useful for the development of Sam's career."
McLaren's Gary Paffett was fourth quickest after taking over from Oliver Turvey, ahead of Ferrari tester Jules Bianchi. New Sauber signing Sergio Perez was sixth fastest on his F1 test debut, marginally faster than Paul di Resta in the Force India.
Pastor Maldonado had his first experience of a Williams, switching from the HRT that he drove yesterday. British international F3 champion Jean-Eric Vergne continued with Toro Rosso but left early to head for this weekend's Macau F3 GP.
Davide Valsecchi drove the HRT alongside Josef Kral, while Luiz Razia and Bulgarian Vladimir Arabadzhiev, at Lotus, both had their first experience of an F1 cockpit
1. Daniel Ricciardo, Red Bull-Renault, 1:38.102
2. Jerome D'Ambrosio, Renault, 1:38.802
3. Sam Bird, Mercedes GP, 1:39.220
4. Gary Paffett, McLaren-Mercedes, 1:39.760
5. Jules Bianchi, Ferrari, 1:39.916
6. Sergio Perez, Sauber-Ferrai, 1:40.543
7. Paul di Resta, Force India-Mercedes, 1:40.901
8. Pastor Maldonado, Williams-Cosworth, 1:40.944
9. Jean-Eric Vergne, Toro Rosso-Ferrari, 1:40.974
10. Yelmer Buurman, Force India-Mercedes, 1:41.178
11. Davide Valsecchi, HRT-Cosworth, 1:43.013
12. Luiz Razia, Virgin-Cosworth, 1:43.525
13. Josef Kral, HRT-Cosworth, 1:44.143
14. Rodolfo Gonzalez, Lotus-Cosworth, 1:44.312
15. Vladimir Arabadzhiev, Lotus-Cosworth, 1:45.723
Other stories for NOVEMBER 17, 2010