DECEMBER 16, 2009
Renault to sell stake in F1 team to Genii Capital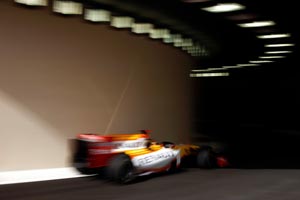 © The Cahier Archive
Renault F1 has announced that it will continue in Formula 1, having concluded a deal to sell a large shareholding in the team to a Luxembourg based investment firm called Genii Capital.
Renault also announced today that it will continue to supply engines to Red Bull Racing for the 2010 season.
The deal with Genii was signed earlier this week, and should be concluded at the start of the new year. The team will continue to run
Renault F1 Presidemt Bernard Rey said, "I am delighted to welcome Genii Capital as our new strategic partner as I am sure that their enthusiasm and business expertise will create a new dynamic for the team, the staff, and our partners. Altogether, we look forward to competing again at the highest level in Formula One. Today's announcement also confirms Renault's commitment and trust in the sport's governing bodies to improve the green credentials of Formula One."
Genii Capital CEO Eric Lux said, "We are delighted to have been selected as Renault's strategic partner for the Renault F1 Team. Our long-term vision for this challenging venture aims to return Renault to the forefront of Formula 1. Together with Renault, we intend to run the team with the same values as any of our other investments, prioritising ambitious performance targets without neglecting cost efficiency. We strongly believe that on-track performance can be compatible with business performance, and we will use all our entrepreneurial spirit and commercial know-how to achieve this goal."
Other stories for DECEMBER 16, 2009