JANUARY 19, 2011
Renault names Fauzy as reserve driver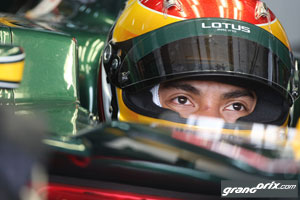 © Grandprix.com
Renault has announced that Malaysian driver Fairuz Fauzy has been signed as reserve driver for the 2011 season.
In 2010 as the Lotus Racing reserve driver, Fauzy participated in the friday practice session during the Malaysian, British, German, Singapore and Abu Dhabi Grand Prix.
Fauzy will also compete in the GP2 series with Super Nova Racing, with backing from Malaysian manufacturer Proton.
Fauzy said, "I want to thank Lotus Renault GP for giving me this opportunity. It's a real honour to be part of a top team that has achieved so much in the sport and it's something any driver dreams about. It's feels especially exciting because of the new partnership with Lotus and I'm very proud to be here at the start of a new era for the team. It's also a great opportunity for me to improve as a driver and learn as much as I can about Formula 1 so that hopefully one day I can be on the grid myself."
Other stories for JANUARY 19, 2011