APRIL 4, 2023
Red Bull holding back true 2023 dominance
The jury is out as to whether Mercedes really narrowed the gap to Red Bull's dominance in Melbourne.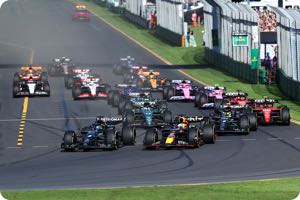 The jury is out as to whether Mercedes really narrowed the gap to Red Bull's dominance in Melbourne.
"You shouldn't have any illusions," Mercedes boss Toto Wolff said after Lewis Hamilton finished second behind back-to-back world champion Max Verstappen on Sunday.
"The Red Bulls are still in a league of their own," he added.
Red Bull boss Christian Horner, however, insists that the field was "certainly a little closer" in Australia compared to Saudi Arabia and Bahrain.
But George Russell, who even led for a time in Melbourne before his fiery retirement, thinks Red Bull was carefully managing its pace last weekend.
"Certainly they're holding back," he told a BBC podcast.
"I think they're almost embarrassed to show their full potential because the faster they seem the more the sport will try to hold them back in some way."
Russell thinks Red Bull is still "probably seven tenths" per second ahead of any other rival in 2023.
"Max has no reason to force it, and neither does Red Bull," said the Briton.
Dr Helmut Marko, though, said both qualifying and the race in Melbourne demonstrated "how close it is" at the top of the sport.
"We're always said to have a dominance that only exists when everything is running smoothly," said the top Red Bull official.
"Our rivals Aston Martin, Mercedes and Ferrari have made gains."
However, he also acknowledges that Mercedes may have looked close to Red Bull than actual reality because the German team had "nothing to lose" amid Sunday's chaos in Australia.
"When Max and Lewis got close, Max was right to not take risks because he's thinking of the championship," said Marko.
"But Max is ahead of Alonso by only 24 points, which is one victory. It's not as easy for us as some people think."
Mercedes' Wolff, meanwhile, admitted that while Hamilton and Russell did "an excellent job" last weekend, "others did not do so well".
He is undoubtedly referring to Ferrari, whose boss Frederic Vasseur was actually relieved with the car's better pace in Australia - but frustrated with the failure to score even a single point.
"The pace was there, and so was the consistency," said the Frenchman. "Now we have to build on that. We took a step forward in terms of pure performance."
Indeed, Carlos Sainz bemoaned "the most unfair penalty I've ever seen in my life" for the clash with Fernando Alonso, while Charles Leclerc slumped to tenth in the drivers' standings after his Melbourne DNF.
"This is my worst start to a season," the Monaco-born driver said.
"I have only six or eight points - I don't remember how many. But it's very upsetting.
"Right now, I'm not setting long-term goals," Leclerc continued. "It's more important now to finish the races without penalties or technical problems.
"After that, we'll see what results are possible."
(GMM)