NOVEMBER 9, 2010
Red Bull and the mathematical permutations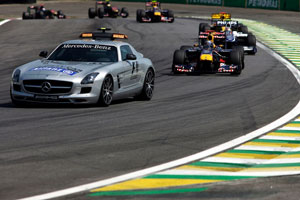 © The Cahier Archive
Red Bull boss Dietrich Mateschitz has explained that the team never entertained the idea of having Sebastian Vettel defer to Mark Webber in the Brazilian Grand Prix as long as both its drivers were still in the championship battle.
Had the young German done so, Webber would have gone to the final round in Abu Dhabi just one point behind Fernando Alonso and with his destiny in his own hands. As things stand now, however, if Webber wins in Abu Dhabi and Alonso is second, the Spaniard is champion for the third time, by two points.
"To interfere with the drivers was never a possibility for us," Mateschitz said. "The whole world condemned Ferrari after what they did in Hockenheim but we have turned out as idiots because we did not act in this way. We never even thought about it as long as both our drivers remain in the hunt for the championship.
"It is not assured that Alonso will always be the lucky one. Abu Dhabi will be incredibly exciting and provide highest tension. On Sunday night we will know if we clinched the other 50 percent and have been successful or not. A second place under correct circumstances might be better than a win on grounds of orders."
If the Red Bull RB6 again proves the class of the field in Abu Dhabi and Alonso is unable to split the pair, should Vettel win again, Alonso would only need to finish fourth to take the title, meaning that he could follow Lewis Hamilton home as well.
If Alonso breaks down or has an incident, Vettel can win the championship by winning at Yas Marina. If Webber was second the Red Bull drivers would finish on the same 256 point total but Vettel would be champion on the strength of five victories to four.
However, so long as Alonso is running fourth or better at the flag, Vettel cannot win the title even with a victory. Such a scenario raises the prospect that Vettel, if ahead, would move over for Webber within sight of the flag, provided he is sure that Alonso is going to finish the race. He would probably do so of his own volition - even if it half killed him inside to do so! -- without the need of a team order, handing the title to his team mate in the process. Many would see that as poetic justice given the extra seven points which Alonso gained via a Ferrari team order in Germany...
Asked, after his Brazilian win, if he would move over in Abu Dhabi if the situation arose, Vettel mischievously declined to answer directly but hinted strong that he would. "I've been to school..." he smiled, hinting that he was capable of doing the maths.
Other stories for NOVEMBER 9, 2010