FEBRUARY 27, 2019
Preseason test two, day 2 - McLaren two for two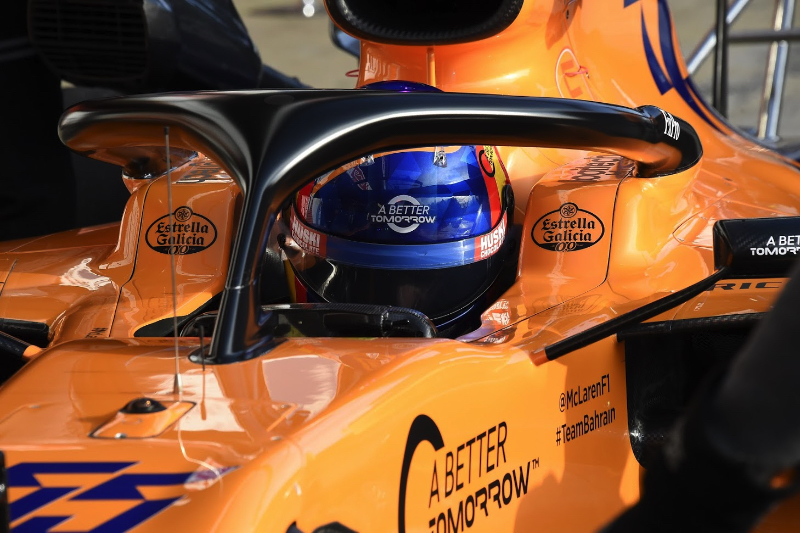 © RV Press
By Dan Knutson
Carlos Sainz clocked the fastest lap time in the second day of the second preseason testing, backing up the speed his McLaren teammate Lando Norris showed by being quickest on the first day. Sainz and Robert Kubica (Williams) each completed 130 laps, which were the top totals for the day.
"It's been a good day of work," Sainz said. "We managed to do a lot of laps again today and more or less a full race simulation. There are still a few niggles and stoppages that we wish we didn't have, but every time we go out on track we're a bit more reliable and we keep moving in the right direction. Overall, I'm happy that we made the most of the time on track today."
Sergio Perez popped up to second place quite late in the day.
"Certainly I've made good progress today," the Force India driver said. "But I really need a strong final day with a good program and a lot of mileage in my pocket, try different fuel loads and so on. That's something I'm really looking forward to."
Sebastian Vettel was third fastest before he crashed his Ferrari heavily in the morning session.
"I was going into Turn 3 and I had a feeling there was an issue with the front-left corner," he said, "and then from there it wasn't anything that I could have done to avoid the impact. After that I wasn't in control anymore and went straight into the barriers.
"We are flat-out trying to understand, it would be a lot easier if there was a lot of run-off and the car didn't hit anything because now due to the hit it's fairly damaged. We have to be very careful in understanding exactly what is the problem. That is what everyone is looking at here at the track and also in Maranello."
The Ferrari mechanics repaired the car and Charles Leclerc got out on the track for a single lap at the end of the day.
Former Ferrari driver Kimi Raikkonen was fourth quickest in his Alfa Romeo.
"There are no issues with the car," he said. "It's just trying to figure out what does what. It's the normal story with a new car. But it's a new team and if you've done a few years with the same team you kind of have an idea what does what. We'll put everything together and see what we get. In testing we don't know where we are, it's the same guessing as everyone (is doing) on the outside."
Romain Grosjean wound up fifth in the Haas.
"It's been a good day with a fair number of laps," he said. "We had a bit of a slow start in the morning, but then we got into it, we did the program we wanted. I drove the car in different conditions. It still feels really good, it reacts very well. There are a lot of things we're improving day-after-day. The team's doing a great job and I feel we're headed in the right direction. I'm looking forward to getting more laps in this week."
Once again Mercedes did not go for fast lap times.
"It was a positive day," said Valtteri Bottas who was eighth in the standings. "We did 74 laps this morning, focusing on set-up work and making some good progress. There's a lot of data for us to go through tonight to further improve our set-up and make sure we come up with the optimal program for tomorrow. We learned a lot today and we will make sure to learn a lot again tomorrow."
Lewis Hamilton was ninth.
"We got a lot of laps today which is a good thing," he said, "but we've come across a few little hurdles, so we're just working our way through them, trying to be as diligent as possible trying to understand the causes - which is exactly what testing is for. Everyone is working flat-out and I'm sure we will get there. You need days like this to be able to bring light to the things that we need to work on."
Preseason Test 2
Day 2 lap times
Carlos Sainz (McLaren) - 1m17.144s - (C4) compound - 130 laps
Sergio Perez (Racing Point) - 1m17.842s - C5 compound - 88 laps
Sebastian Vettel (Ferrari) - 1m18.195s - (C3) compound - 40 laps
Kimi Raikkonen (Alfa Romeo) - 1m18.209s - (C4) compound - 113 laps
Romain Grosjean (Haas) - 1m18.330s - C5 compound - 120 laps
Max Verstappen (Red Bull) - 1m18.395s - (C3) compound - 128 laps
Daniil Kvyat (Toro Rosso) - 1m18.682s - (C4) compound - 101 laps
Valtteri Bottas (Mercedes) - 1m18.941s - (C3) compound - 74 laps
Lewis Hamilton (Mercedes) - 1m18.943s - (C3) compound - 102 laps
Nico Hulkenberg (Renault) - 1m19.056s - (C3) compound - 58 laps
Robert Kubica (Williams) - 1m19.367s - C5 compound - 130 laps
Daniel Ricciardo (Renault) - 1m22.597s - C1 compound - 72 laps
Charles Leclerc (Ferrari) - no time set - 1 lap
(Pirelli has five different compounds of slick tires which range from the hardest C1 to the softest C5.)