JANUARY 23, 2013
Pirelli looks for more uncertainty for 2013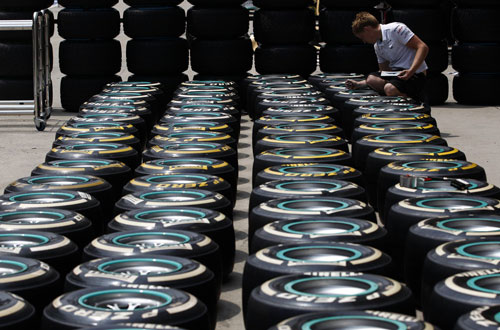 © Active Pictures
F1 tyre manufacturer Pirelli has hosted an event in Milan to kickoff the 2013 season.
The Italian company feels that with their aggressive new tyre construction and compounds will help continue the "uncertainty" in the outcome of races, as well as resulting in more pitstops.
Pirelli have also changed the sidewall colours indicating the tyre compound - changing last years silver colour indicating the hard compound to bright orange.
Pirelli motorsport director Paul Hembery said, "The 2013 season continues the philosophy adopted by Pirelli last year in evolving the original 2011 range of Formula One tyres. The goal is to continuously set new challenges for the drivers and to ensure that all the teams start the new season on a level playing field when it comes to the tyres. Through accumulating more information with each grand prix last year, the teams eventually fully understood the tyres, after a spectacular start with seven winners from the first seven races. The result at the end of the year was races with less competition and sometimes only one pit stop. This phenomenon was also observed in 2011, disappointing many fans and prompting some of the teams to ask us to continue developing our tyres further this year, in order to provide a fresh challenge with something different. Our 2013 range of tyres mixes up the cards once more to help overtaking and ensure two to three pit stops per race.¹
Pirelli chairman Marco Tronchetti said, "We have been asked to provide more uncertainty and more performance. Uncertainty means teams having to find the right set-up and drivers having to use the tyre properly. Like last season, in the first five or six races, the drivers were not at the top using the tyres, but at the end they were too good. The teams asked us to do something different, because otherwise drivers could use one set for whole race. This uncertainty is something the teams have asked for."
Other stories for JANUARY 23, 2013