JULY 26, 2007
No punishment for McLaren F1 team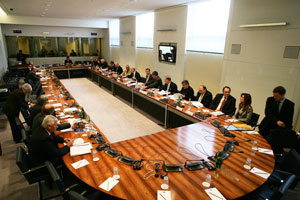 © FIA Media
The FIA World Motor Sports Council has decided not to impose any penalty on McLaren. The FIA said after the hearing that it would pursue action against Coughlan and Ferrari engineer Nigel Stepney.
The governing body said that there was no doubt that the team's chief designer Mike Coughlan had had the leaked information but there was no proof that McLaren had benefited from it.
The FIA reserved the right to summon McLaren again if it was suspected that the team had made use of any of the data.
The full FIA statement read: "An extraordinary meeting of the World Motor Sport Council was held in Paris on 26 July, 2007. The following decision was taken:"
"The WMSC is satisfied that Vodafone McLaren Mercedes was in possession of confidential Ferrari information and is therefore in breach of article 151c of the International Sporting Code. However, there is insufficient evidence that this information was used in such a way as to interfere improperly with the FIA Formula One World Championship. We therefore impose no penalty."
"But if it is found in the future that the Ferrari information has been used to the detriment of the championship, we reserve the right to invite Vodafone McLaren Mercedes back in front of the WMSC where it will face the possibility of exclusion from not only the 2007 championship but also the 2008 championship."
"The WMSC will also invite Mr Stepney and Mr Coughlan to show reason why they should not be banned from international motor sport for a lengthy period and the WMSC has delegated authority to deal with this matter to the legal department of the FIA."
Other stories for JULY 26, 2007