MAY 15, 2023
No plans yet for return to F1 paddock says Vettel
Sebastian Vettel says he isn't sure when he will return to the Formula 1 paddock.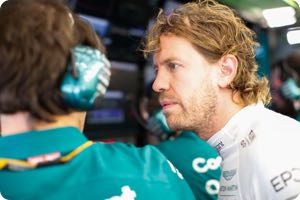 Sebastian Vettel says he isn't sure when he will return to the Formula 1 paddock.
The quadruple world champion has been completely absent since retiring as a race driver at the end of 2022.
"After such a long time in racing, I have something like an everyday life for the first time," he told the German newspaper Bild am Sonntag. "It took me some time to get used to it.
"Above all, I enjoy the time with my children," said the 35-year-old.
"It was strange at first not to be there," Vettel admitted. "But I'm getting on well and following the sport with great interest."
Aston Martin - Vettel's last Formula 1 team - has suddenly surged from seventh overall in the constructors' championship last year to regular podium finishes for his successor Fernando Alonso.
"I'm very happy for my former team," Vettel insisted. "They've worked hard in recent years so it's nice that they're clinching a few trophies now."
But when asked when he will pop up in the F1 paddock again, he answered: "I don't know yet."
Vettel will, however, return to a Formula 1 cockpit at this year's Goodwood Festival of Speed, at the wheel of his own former Nigel Mansell Williams from 1992 and others from his personal collection - including an Ayrton Senna McLaren from 1993.
They will be powered by 'alternative fuels' in line with Vettel's passion for environmentalism.
"Driving my old cars with e-fuels is one thing," Vettel said. "Then I'm letting myself be inspired, looking around a lot, collecting ideas.
"Let's see what ends up being a project. But so far I'm doing very well with my decision to retire.
"I do miss the competition and the excitement the most."
(GMM)