OCTOBER 31, 2007
No decisions yet on Alonso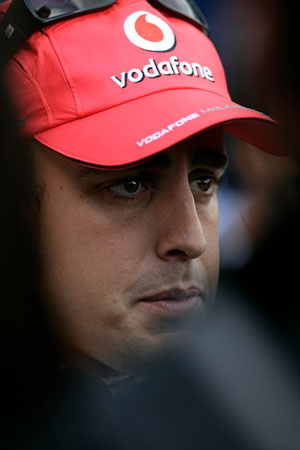 © The Cahier Archive
Fernando Alonso and Ron Dennis, while not talking to one another, are busy negotiating their future at the moment. McLaren has handed over responsibility for the Court of Appeal protest to Martin Whitmarsh, leaving Dennis free to sort out what to do about drivers. There have been various rumours but no-one has yet come up with the solution.
Fernando's options are rather limited as he had been expected to stay at McLaren until the end of 2009 and thus other top teams are not really prepared to take him. He could stay at McLaren if those involved can get over the antipathies that exist (which may be possible) but when one considers the situation it is hard to imagine that Alonso would want to do that as Lewis Hamilton will get stronger next year and will thus be even harder to beat than he has been in 2007. While Alonso might relish such a challenge and might conclude that beating Hamilton next year might restore his damaged reputation, it is a risk as Hamilton might defeat him more comprehensively in 2008 and that would do him even more damage.
Ferrari seems to be closed to the Spaniard at the moment, although some still think that the re-signing of Felipe Massa was a cover for other activities. Every driver, whether they admit it or not, wants to be a Ferrari driver at some point, and the only question for Alonso is whether or not he wants to go up against Kimi Raikkonen in a team that is in the process of being restructured.
The option to go to Renault certainly exists but Renault seems to be having trouble raising the money and convincing Alonso that the move is a good one. It is certainly good for Renault, which needs a star, but the team's performance has been less than conclusive this year and Alonso did not have a great relationshiip with the whole team at the end of 2006 and may not have forgotten that.
There exist outside chances that Alonso will look beyond these three teams. There has been a fair amount of quiet talk about a possible deal with Red Bull Racing. The team certainly has money but there are a lot of other question marks about the team's competitiveness. Williams may also be waiting to see if it can convince Fernando to join Nico Rosberg.
Other stories for OCTOBER 31, 2007