APRIL 18, 2023
Next F1 meetings to shape sport's future
Important forthcoming meetings are set to have a major impact on Formula 1's immediate and longer-term future.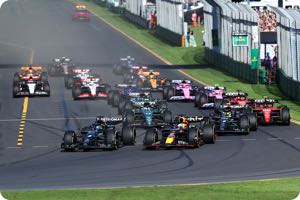 Important forthcoming meetings are set to have a major impact on Formula 1's immediate and longer-term future.
The F1 Commission is set to meet later in April, where teams are set to get an update about which prospective new teams are bidding to join the sport.
"I think what's come to light is that three or four teams are going to put forth entries," McLaren supremo Zak Brown told the Washington Post. I'd love to see the grid expand with the right terms and conditions."
With his other motor racing investments, Brown is already in business with Michael Andretti's US-based empire - by far the most prominent of the applicants.
"We know I'm a supporter of Michael and Cadillac and I think they'd be healthy for the sport," said the American. "I'm probably in the minority in that thinking."
However, while pressure from the existing teams is linked with a forthcoming increase to the $200 million anti-dilution fund payable by new teams, Brown insists that it will be Formula 1 and FIA making the final decisions.
"I don't think everyone fully understands the governance of Formula 1," he said. "At the end of the day, the teams have no vote on this particular matter."
Also set to be discussed further in the coming days is the likely new format for the 'sprint race' weekends, with an extra qualifying session replacing a practice session.
"There was a very good meeting where myself and other team managers sat down and discussed what would be good for the sport," Williams boss James Vowles told SiriusXM.
"We agreed that currently FP2 is not good. It's an hour during which we don't do much. We go around in circles, but we don't learn much," he said.
Vowles says the teams have agreed in principle to the change because it makes F1 "more interesting". The next step, he said, is to "set the rules".
"Then there will be a vote to make sure we are all happy," he added. "So this new format is currently at the proposal stage and will hopefully move to a full stage later."
The biggest objectors to the changes, including world champion Max Verstappen, worry that the 'DNA' of the sport is being risked for mere entertainment.
"Formula 1 has to evolve in general," Aston Martin boss Mike Krack said. "But Formula 1 must also preserve its DNA.
"There have been some constructive discussions on how to achieve that, because you also have to understand the interests of everyone involved and take into account that you can't neglect the schedule, the availability of tyres, the mileage of the engines and all of that," he added.
"You have to find a reasonable compromise, and maybe at one point you have to put the interests of an individual team on the back burner and keep an eye on the big picture."
(GMM)