NOVEMBER 26, 2010
Muggers target Ecclestone again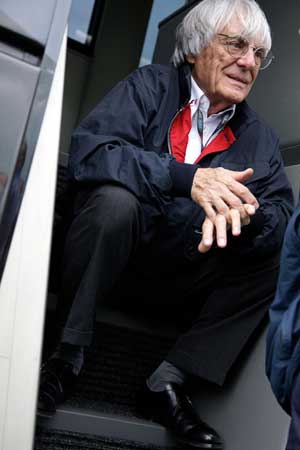 © The Cahier Archive
Bernie Ecclestone, 80 last month, was taken to hospital in London last night after an attack by four men outside the Prices Gate, Knightsbridge, London, offices of Formula One Management.
Ecclestone sustained a blow to the head as the men stole jewellery said to be worth 200,000 pounds belonging to the F1 commercial supremo and his girlfriend, Brazilian Fabiana Flosi. He was discharged the same night and was back at his desk this morning, contemplating the second such personal attack within a four year period. The first time, Ecclestone and ex-wife Slavica were targeted by thieves in Chelsea.
A police spokesman said: "We were called to reports of a man and woman who had been robbed in south west London at approximately 10.30pm on Wednesday night. The man, aged 80 years old, was taken to a west London hospital for treatment to a minor head injury. The woman was not injured.
"At this early stage it is believed a quantity of jewellery was stolen but we cannot disclose details of what was stolen as yet. No arrests have been made at this time and inquiries are continuing."
Ironically, Ecclestone made light of Jenson Button's recent run-in with armed men in Sao Paulo, in which Button's driver exercised specialist defensive driving techniques to escape a potential robbery shortly after leaving the Interlagos circuit after qualifying. "Sao Paulo is a safe as London's Oxford St," Ecclestone was quoted saying at the time...
Other stories for NOVEMBER 26, 2010