APRIL 20, 2008
Mosley says he will go in 2009 (and maybe before)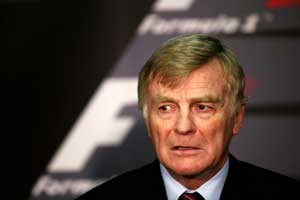 © The Cahier Archive
FIA President Max Mosley says he wants to finish his term of office and will then stand down voluntarily in October 2009. Mosley told the Sunday Telegraph that the scandal which has engulfed him, the FIA and the whole sport, has had no effect on his ability to run the federation. Mosley says that if the FIA General Assembly wants him to leave the position - which seems quite likely from discussions we have had with clubs around the world - he will stand down.
"If they wish me to continue, I will continue," Mosley says. "If they don't, I'll stop. I will also say to them that it was always my intention that I was never going to go beyond 2009. The reason's very simple: if you stop in 2009, aged 69, you can maybe still do something else useful. Were I to stay on till I was 73, I'd be getting very marginal."
The remarks will be read with interest by Bernie Ecclestone (77).
Mosley says he has not resigned because of the support he has received from "the presidents of all these clubs worldwide". He says that most of the letters he has received from club presidents around the world say that he should stay on.
"It would then be impossible to turn around to all these people, the great majority, and say, `No, I'm going to walk away', even if I'm inclined to. But my inclination is to stay and fight.
"As far as the people in the sport are concerned, it's interesting that none of the heavyweights have said anything, the people who really are the opinion formers in Formula 1."
It is entirely possible that a large number of clubs have NOT written to Mosley because they were worried about the consequences of such actions if he were to continue in office. This would obviously skew the numbers and give an impression that many more people want him to stay than actually is the case. It is clear in F1 circles that people are not speaking out because they fear what Mosley could do.
Mosley continues to argue that his sexual activities are entirely acceptable "provided it doesn't hurt anybody, provided it's consensual, provided it's among adults, provided it's in private, it concerns nobody but the people doing it."
That is one argument. There is, nonetheless, a contrary argument that for a man in his position, to indulge in such activities and risk public exposure, which would (and has) affected the organisation he represents, is a sign either of extreme arrogance or of poor judgement.
Other stories for APRIL 20, 2008