MAY 30, 2023
Monaco GP promoter Boeri to be pushed out
Michel Boeri looks set to be pushed aside as Monaco looks to secure its future on the Formula 1 grid.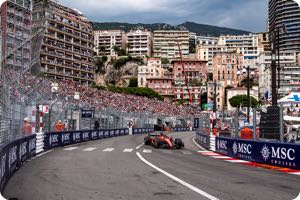 Michel Boeri looks set to be pushed aside as Monaco looks to secure its future on the Formula 1 grid.
Days ago, Boeri - who has been president of the Automobile Club de Monaco since 1972 - warned that the fabled street race could be "dead" by the end of 2025 as F1's owners Liberty Media negotiate with more lucrative markets.
"What counts for the Americans is the offer alone," he told the French sports daily L'Equipe.
It appears that Monaco's Prince Albert II is now stepping in with damage control.
"Stefano Domenicali and Greg Maffei told me how they see the future of Formula 1," the Prince said. "They want to make racing more dynamic and attractive, but made it clear that a season without Monaco is impossible.
"You can't just treat Monaco like other circuits. Of course, there are difficult moments in the negotiations when the parties are engaged in a tug-of-war, and this needs to be changed.
"There are agreements that we cannot cancel, we have a limited space for the race, but I am convinced that the parties will come to a compromise," Prince Albert II added.
In Monte Carlo last week for the grand prix, F1's major players also expressed concern about the future of the Monaco GP - particularly the almost impossibility of overtaking with today's bigger and heavier cars.
"I think, not for the immediacy, but I think for the long-term viability of this venue, everything has to keep evolving," said Red Bull boss Christian Horner.
"You know, nothing stands still forever. It'd be great to look at whether it's possible to introduce some genuine overtaking opportunities around the circuit or to adapt the circuit over a period of time."
Some organisational changes for the Monaco GP have already been implemented, relating to sponsorship and the way the race is broadcast.
"In 2025, we will reassess the situation again, mainly discussing sponsorship, TV production and merchandising," Prince Albert II said.
"Both parties are interested in this. A new era begins in the history of the Monaco GP. (Bernie) Ecclestone's time is in the past. We must move on and look to the future.
"I don't blame Michel Boeri for the fact that he found it difficult to adapt to the new situation, but it may be better now if someone else negotiates on behalf of the ACM."
(GMM)