FEBRUARY 18, 2022
Mercedes reveals W13
Mercedes unveiled its new 2022 challenger the W13 today.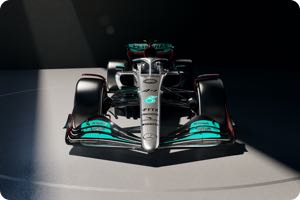 Mercedes unveiled its new 2022 challenger the W13 today.
Toto Wolff said, "Ever since work on W13 began, I have seen an excited enthusiasm in our team members like never before, thanks to the scale of opportunity that these technical regulations provide. Towards the end of the year when the car build project truly came together, I felt a deep passion across the whole organisation, not only in the technical arena but across our bases at Brackley and Brixworth who were embracing a mindset of 'we can do this'."
"We did pretty well during the last big regulatory change into the hybrid era and performed well when we went from the narrow to the wide cars in 2017. While we have a good track record, my message is clear: we can't rely on past success for this year's performance, but we can rely on our people, our culture, our structure, and our mindset to do the best possible job for 2022."
Technical director Mike Elliott said, "On the chassis side, the changes are huge. We haven't had a change as big as this one in my career. I think there are three aspects to this: first, the way the regulations are constructed is very different, particularly for aerodynamics, and that has a big impact. Second, what they are trying to achieve with the aerodynamics means the cars are fundamentally a different shape. Third, this is the first time we will have attempted such a big change under a cost cap."
"Engineers love a challenge and therefore it is a fantastic opportunity to do something fresh. In the aerodynamic world, normally you are chasing after little bits and pieces, but with such big regulation changes, the gains have been coming in big chunks which is quite satisfying. On the flipside, we've had a period of success, winning the last eight Constructors' titles and this is a reset. All the teams have started from scratch with the model provided by F1 and you don't get to carry over the benefits or fix the issues from last year's car, so everyone began this journey at the same level."
"The teams have started with different allocations of runs in the wind tunnel and hours of CFD (Computational Fluid Dynamics) so it has the potential to really mix up the order. That's an exciting test as an engineer but there is obviously some risk in there too, in terms of our competitive position."
"Getting to the desired aero shapes has meant a complete internal repackaging, right down to the electrical layout and where we fit things like the ECU. The suspension has been redesigned to account for the loss of hydraulics and remote springs, now banned in the new regulations. Hopefully, you will also see that we have taken another step with how tightly packaged the sidepods and engine cover are. To get to this is not just a shrink-wrapping exercise but requires a huge amount of redesign and simulation to make it work."
"What we have seen in testing, particularly the Abu Dhabi test at the end of 2021, is that there are subtle differences. It is going to change what we want to do with set-up, but it is a step in the right direction as I think the tyre will help improve the racing, won't overheat as much and will be easier to manage."