MARCH 29, 2011
Mercedes explains problematic Melbourne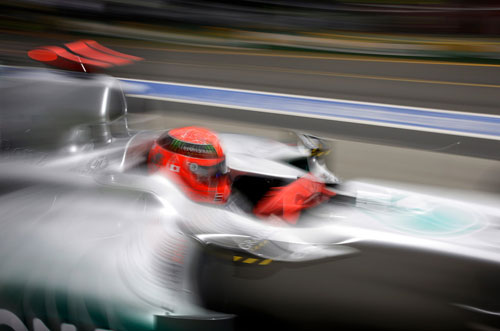 © The Cahier Archive
Mercedes believes that its disappointing start to the 2011 season in Melbourne was due to specific circumstances, which included aerodynamic and set-up issues.
"We never tend to be superstrong at Barcelona but the car was very good in the final test," explained Ross Brawn. "Michael was very happy on the last day he drove it and Nico thought it was a different car. We therefore went to Melbourne with reasonable confidence but we had a messy weekend.
"The drivers didn't quite know what kind of car they were going to have when they got into a corner. KERS was not working consistently and on the wing there was an extension that grew over the weekend because we had some aerodynamic stability issues that we'd not seen before."
"Friday was quite gusty and these wings we're using now with the drag reduction system are perhaps more highly loaded than a conventional wing. On Friday we were getting drop-out on the rear wing that we needed to fix and hopefully by the time we get to Malaysia we will have some more elegant solutions.
"We thought we were 0.7-0.8s away from where we should have been in qualifying but we are not strong enough yet. If we'd done a perfect job, with clean sessions and had found the balance and we were where we were, I'd be more worried. I'd have been wondering where we were going to get the performance from."
Brawn said that the team had not been surprised by the pace of the Red Bull.
"They've known they've had a strong car all winter and focused on their reliability and race preparation, which is exactly what I would have done," he said. "I think qualifying was the first time we saw them open the thing up properly and Vettel had a very strong lap. We weren't really surprised. We were expecting to see something."
Brawn confirmed also that with the Brawn GP management group having now sold all its shares to Mercedes/Aaber Investments, he would be imminently resigning his board position, but that there was nothing sinister to that and that retirement is not in his mind just yet.
"This is not the smoke going up, it was all part of the plan," he explaned. It only strengthens our situation.We are building this over the next few years and there is no timetable, simply the desire to succeed. As long as I can physically do it then I will keep going. But this will be my last team in F1."
Other stories for MARCH 29, 2011