NOVEMBER 15, 2015
Massa excluded after race for tyre infraction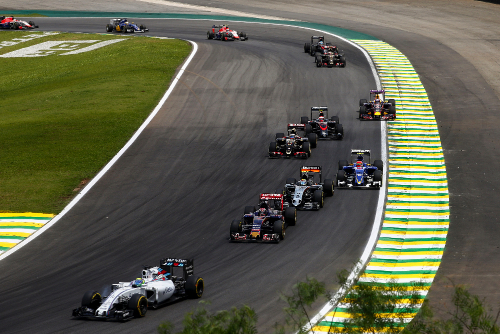 © Active Pictures
Williams F1 driver Felipe Massa was excluded from the results after the Brazilian Grand Prix.
Before the start of the race the tyre temperatures were taken at five-minutes prior to the start, and Massas right rear tyre was measured at 137 degrees centigrade - 27 degrees above the 110 degrees maximum allowed.
With this, the tyre pressure was 20.6psi - or 0.1psi above the maximum.
The results were given to the stewards by FIA technical delegate Jo Bauer, and following a meeting with team representatives, it was determined that Massa breached the rules allowed.
The result removes Massas eighth place finish, and promotes Romain Grosjean to 8th, Max Verstappen to 9th, and Paster Maldonado to one point for 10th place.
The FIA said, "The temperature of the right-rear tyre was measured in compliance with the FIA technical directive TD/029-15 (that relates to minimum tyre starting pressures and maximum tyre temperatures in blankets). The team did not comply with the FIA Formula 1 technical and sporting regulations, FIA international sporting code and the instructions of the official tyre supplier in the event preview."
Williams said it will appeal the decision.
Other stories for NOVEMBER 15, 2015