SEPTEMBER 27, 2023
Marko planning expensive party in Qatar
Max Verstappen can now almost touch his third consecutive drivers' title.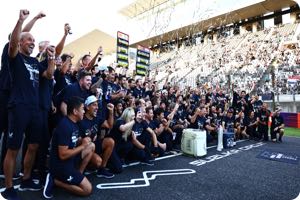 It has been clear for some time that the dominant Red Bull driver would eventually win again in 2023 - but he will get his first actual chance to do that next weekend in Qatar.
It actually dawns on me that Red Bull is not only the constructors' champion now, but also the drivers' world champion, Dutch GP boss Jan Lammers told NOS.
That is because the only driver who can mathematically beat Verstappen now is his own Red Bull teammate Sergio Perez.
But even if Mexican Perez was to win the sprint race in Qatar next Saturday, Verstappen only has to finish sixth to clinch the drivers' title.
And even if Verstappen doesn't manage that mild feat on Saturday, another Perez victory in the main race the following day means Max only has to finish in eighth place.
I will of course try to have it decided on Saturday, the Dutchman said.
I think we should be good there.
Last year, Verstappen sealed up his second title in Japan.
It has taken longer this year because there are so many races, he said. The whole year has been very dominant, except for Singapore of course.
Red Bull only had a limited party to celebrate the constructors' championship last weekend at Suzuka, so plans are now being made for a real celebration in Qatar.
If we also have the drivers' title, we will celebrate as a team, said team boss Christian Horner. We had a few beers (in Japan) but the job isn't done yet.
Dr Helmut Marko didn't even attend the small party in Japan, as he left Suzuka straight after the race.
We had a pretty tight schedule, the team advisor told ORF. "The engineers and mechanics had to be in Tokyo at ten o'clock, so they had to get out of Suzuka by five.
We still have some work to do before we go to Doha (Qatar) anyway.
He admits, though, that there will almost certainly be a big team party next weekend.
Hopefully yes, the 80-year-old smiled. "It will be an expensive party, because while there is alcohol in Qatar, the prices are scary.
We'll have to be careful with the budget limit, Marko laughed.
(GMM)