MAY 12, 2023
Marko could oust struggling de Vries?
Daniel Ricciardo could be on the cusp of a sensational return to the Formula 1 grid.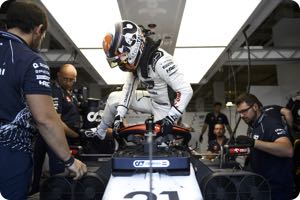 Daniel Ricciardo could be on the cusp of a sensational return to the Formula 1 grid.
Multiple authoritative media sources, including the major German newspaper Bild, report that Dutch rookie Nyck de Vries is already at risk of losing his new full-time seat at Alpha Tauri.
Other reports suggest 28-year-old de Vries could be ousted as soon as Imola, and replaced either by Red Bull reserve Ricciardo or the much-younger Liam Lawson, who is currently racing Super Formula in Japan.
Ricciardo, 33, has reportedly already had a seat fitting in Faenza, while other sources believe de Vries has at least been given three more races to improve.
"The performance has been disappointing so far," an unnamed Red Bull source is quoted by the Dutch publication Formule 1 in reference to de Vries.
"If (Helmut) Marko thinks someone else can do better, he won't fail to give them a chance."
Some believe Ricciardo is actually less likely than 21-year-old New Zealander Lawson of potential securing de Vries' seat, although Ricciardo is gearing up to test Red Bull's 2023 car in the post-British GP Pirelli tyre test.
"There could perhaps be another one after Monza in September," Italy's Autosprint quotes Ricciardo as saying.
As for top Red Bull official Marko, he is ruling out a scenario in which Ricciardo could replace Sergio Perez to become Max Verstappen's teammate in 2024.
"Checo signed a two-year contract and that also includes 2024," Marko told RTL.
"With the performance that he delivers, there's nothing to be said against him - on the contrary," added the 80-year-old Austrian.
"He also has an incredible following in Mexico and other parts of South America."
(GMM)