JULY 3, 2008
Mark Webber re-signs for Red Bull Racing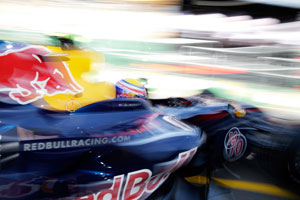 © The Cahier Archive
Red Bull Racing has announced that Mark Webber will stay with the team until at least the end of the 2009 season.
"Im very happy to have signed up for another year with Red Bull Racing so early in the season," said the Australian. "As far back as the middle of last year, it was very clear to me that I enjoyed working with the team, playing my part in its development and helping it move forward. So far this year, our reliability has improved and thats allowed us to exploit our performance. The progress the team has made in the last ten months has been excellent and I am looking forward to carrying that momentum through to the end of the season.
"Continuing with Red Bull Racing for 2009 was a very easy decision for me to make, as I enjoy being part of this team and that has shown through in my driving. Its very difficult to predict how any team will perform in twelve months time, but we have some clever people here, with a stable team and I believe 2009 will see us in even better shape for next year, when the technical regulations go through a major change."
Red Bull has yet to confirm who will replace Coulthard but the word on the street is that the job will go to Sebastian Vettel.
Other stories for JULY 3, 2008