JUNE 18, 2013
Lotus sells stake in team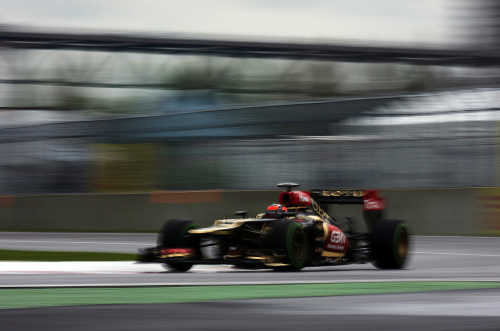 © The Cahier Archive
The Lotus F1 Team has sold a 35% stake in the team to Infinity Racing Partners Limited.
Infinity Racing is an investment consortium whose special purpose vehicle is comprised of private investors that include an American hedge fund manager, an Abu Dhabi-based multinational business group and royal family interests of a major oil producing nation.
Genii Capital previously owned 100% of the team, and retains 65% ownership.
Gerard Lopez, Lotus Chairman said, "Infinity Racing''  s principals have exceptional expertise and a proven strong track record in developing and delivering high quality technologies. This partnership will enable us to increase Lotus F1 Team''  s competitive advantage related to KERS technology as it becomes more central to Formula 1''  s push for environmentally sound racing, while also making Lotus F1 Team more marketable as a brand, opening up additional major sponsorship opportunities.''  Å"
Mansoor Ijaz, Vice Chairman of Infinity Racing said, "Gerard Lopez, Eric Lux and the entire Genii Capital team are building Lotus F1 Team to make it a serious competitor at every race and a winner on a par with the top racing teams in Formula 1. The recent developments at Enstone and results of the Team''  s high-quality drivers are testament to this. Patrick Louis, Chief Executive, and Eric Boullier, Team Principal, are continuing the time-honoured traditions of Lotus F1 Team and have re-established the Team as a competitive force in Formula 1. We are honoured to be part of the Team''  s forward march to the No.1 ranking and proud of the team spirit, down-to-earth nature and performance-oriented results that characterise the experts at Enstone, who endeavour to make Lotus F1 Team a title challenger in Formula 1 today.''  Å"
Eric Lux, CEO of Genii Capital said, "Genii Capital is delighted to announce this partnership between Infinity Racing and Lotus F1 Team as we continue to grow and compete for podium places. Since Genii Capital took over control in December 2009, we have been focused on growing the value of the organisation and developing the infrastructure at its Enstone headquarters. As Lotus F1 Team results have continued to improve every year, we have been waiting for the right investor who will help make the jump to the top spot in the Constructors''   Championship. In Infinity Racing, we have found a partner with the right connections in addition to technological expertise and a global reach in major markets with key sponsors to achieve this goal. We look forward to working with Infinity Racing as we continue on this exciting journey.''  Å"
Other stories for JUNE 18, 2013