SEPTEMBER 30, 2010
Lotus' feud nears solution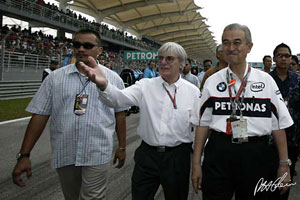 © The Cahier Archive
If understanding Malaysian politics is a bit like reading tea leaves, then the dispute between Lotus Racing and Proton's Group Lotus over the use of the "Team Lotus" name might be nearing a settlement.
Lotus Racing has announced that the team's deputy team principal, Dato' Kamarudin Meranun met with Proton advisor Tun Dr. Mahathir bin Mohamad.
In a statement the team said, "The meeting was to discuss the matter in person and agree a future course of action for Lotus Racing."
"Lotus Racing believes it is acting within its own rights, and as a result of this meeting, the team will now refrain from making any further comments on the matter. This action is upon advice from Tun Dr Mahathir, and it is out of our respect for him that we will act upon his wishes as he has supported us since our inception, and his backing has been invaluable in our growth."
"We are very grateful for having had the opportunity to put forth our case and have complete trust that a fair review will be made, and a decision on the matter will be announced in due course."
The move is significant, as Dr. Mahathir holds considerable sway in government politics. Dr. Mahathir is not just a Proton adviser, but is the former Prime Mimister of Malaysia, a position he held from 1981 to 2003, and was the driving force behind Malaysia's rapid modernisation.
Dr. Mahathir is also a close associate of Tony Fernandes. It was the former premier who Fernandes lobbied to achieve an open skies agreement with Thailand, Indonesia and Singapore, which was a key development in the success of Fernandes™ Air Asia airline business.
Now the bickering between Group Lotus' Danny Bahr and Lotus Racing's Fernandes will unlikely end up in court, and should come to an end, as in all likelihood whatever course of action that Dr. Mahathir advises, the government will surely follow in the matter.
Other stories for SEPTEMBER 30, 2010