JUNE 14, 2010
Is The Pack Closing In On Red Bull?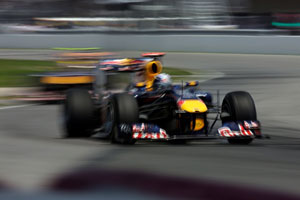 © The Cahier Archive
Lewis Hamilton's second successive grand prix win means that the 2010 world championship has its fifth championship leader in eight races. First it was Alonso, then Massa, Button, Webber and now Lewis.
For the first time this season in Canada, pole position did not fall to Red Bull Racing. Granted, Hamilton's pole came via use of the supersoft tyre whereas Red Bull qualified on the prime, but the truth was that in Q2 McLaren had been quicker than Red Bull on the prime tyre and the option.
It was that fact that meant nobody really understood why McLaren opted to qualify and therefore start on the supersoft tyre when it seemed obvious that Bridgestone's medium compound would be much the better race tyre.
With predictions that the supersoft would not last much beyond lap 5 at the start of the race before the surface rubbered in, it seemed inevitable that McLaren would pit out in heavy traffic after its first stop, given that everyone who qualified outside the top 10 had freedom of tyre choice and would most likely start on the harder tyre.
One team strategist could see the thinking though.
"It's great that McLaren did that," he said, "because the worst thing that could have happened would have been the two Red Bulls qualifying first and second on the primes. They'd just have been gone. But with a car in front of them that is potentially going to degrade more than them, and McLaren with good top speed, what will happen is, as soon as McLaren stop and put their first set of primes on, from that point on they will always be faster than Red Bull. Remember that Red Bull did four or five timed laps in Q3, so their prime is not young, it will be eight laps old already by the time the race starts. So McLaren will come out on new primes and Red Bull will be on 18-lap old primes, so McLaren will be quicker. And at some point Red Bull will have to put the options on."
There was some truth in that. And McLaren did not come out in heavy traffic after all, the reason being that many of those who'd started on the prime tyre found them going away much earlier than expected and also had to make relatively early stops.
Red Bull was among them. The team knew it would have a fight on its hands in Montreal because they had neither Mercedes engines nor an F-duct, two elements that afforded an advantage on the Circuit Gilles Villeneuve's long straights. But, post-qualifying, they were among those a little puzzled by McLaren's strategy and hopeful that they'd be able to run their first set of prime tyres about as far as lap 25 of the race's 70.
Nobody was expected to do a one-stop race because it was only reckoned to be possible to get around 20 decent laps maximum out of a set of supersofts, and that at the end of the race when the surface had rubbered in. In fact, Michael Schumacher went 37 laps on a set, although Ross Brawn later conceded that had been over-ambitious.
For Red Bull though, Webber was in on lap 13 and Vettel one lap later, so they'd only run about half as far as they'd hoped on their first set of primes. Vettel was ahead on the track, with Webber having lost five grid slots after a change of gearbox. By that stage though, they were running pretty close together, with Vettel three seconds in front of Webber.
It was a bit of a surprise to see Webber stop first, therefore, which this season is usually an advantage. He took another set of prime tyres. Vettel though, went for options. On the surface this was a questionable strategy. Logically you'd have thought you wanted to run your short option tyre stint at the end, when the track had rubbered in more. It's possible that the decision to go for the options, which come up to temperature more quickly, was made because there was a risk that Webber, having stopped a lap earlier, might jump him.
"We decided to split the strategies," Red Bull's Christian Horner explained. "The soft tyre was only ever going to last for 10 or 15 laps and you thought that maybe with Sebastian we could use it, take an early stop and get an undercut. With Mark we thought that if we went long he would be able to use the pace on the prime tyre. So by splitting the cars we felt we covered both options and of course Safety Cars are never too far away in Montreal, except today...
"Ultimately, there was nothing in the strategies, it was just a different way of running the race. Under different circumstances with a Safety Car, either one of them could have benefited. What effectively hurt our strategy was the way the prime tyre degraded early. We saw the option tyre turn to cheese on about lap five or six and we then got ourselves into 1-2 positions and expected the drivers to get their heads and hammers downs. We were hoping to get to lap 25 but got nowhere near that."
Vettel and Webber finishing fourth and fifth behind the Hamilton/Button McLarens and Alonso's Ferrari was not a disaster, Horner said.
"We still scored very valuable points and we knew it was a track that would play to all McLaren's strengths, so it was damage limitation. I think we have to take heart and confidence that we were much more competitive than we expected to be."
So what does he expect at Valencia?
"For sure it will favour the boys in silver but we've got some things coming to the car that could help us. If we get the F-duct to have a look at there as well, then I think we can be stronger. Ferrari at this type of circuit was always going to be a factor and while I'm disappointed not to challenge harder for the win, I don't think we can leave Montreal too disappointed."
What could prove costly for Red Bull is that with the season approaching halfway and them having had patently the quickest car, they head neither championship. In the drivers' contest, Hamilton has 109 points to Button's 106, with Webber on 103 and Vettel, 90. It's all so tight that if Alonso had not been tripped up by traffic twice in Montreal, the Spaniard could easily have won and be leading the championship going to Valencia!
Key to the final outcome will be the development race between now and Abu Dhabi in November. Ferrari has been very excited by wind tunnel projections for its update that will be on the car in Valencia. And McLaren is hoping to have a similar type of thing on the car in time for Silverstone at the beginning of July.
Put simply, there is much to be gained from accelerating airflow from the exhaust gases through the diffuser and off the rear wing.
"Yeah, big gains," confirmed one technical director in Canada. "We're expecting around six tenths and so far the only team that's really optimised it is Red Bull. That's part of our Silverstone upgrade. You can see why Red Bull has had such a gap on the field because they've had that on the car since Melbourne. It's potentially bad news for them because their rivals are going to make a step, but on the other hand they've optimised it and sorted out all the other issues with it."
Playing with the exhaust gases obviously blows hot air in places you haven't been blowing it before and can lead to reliability issues. Having not made full capital out of their early season advantage, Red Bull may well be a bit nervous about the likes of McLaren and Ferrari making half second or more advances, but bear in mind, too, that under the current rules you can't simply go and track test such developments.
Red Bull will be hoping that being ahead of the game pays dividends in the form of some reliability concerns for its rivals at the forthcoming races. The championship really couldn't be more beautifully poised.
Other stories for JUNE 14, 2010