NOVEMBER 15, 2010
Hulkenberg leaves Williams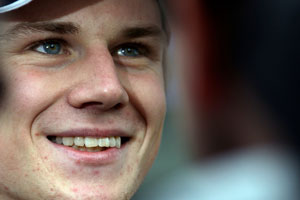 © The Cahier Archive
Two weeks after securing his first pole position at the Brazilian GP, Nico Hulkenberg has announced that he will not race for Williams next year.
Hulkenberg issued a statement saying, "Nico Hulkenberg and the British Williams team will be going their separate ways in 2011. Both sides could not come to an agreement about a contract extension and will finish their cooperation by the end of this year."
Hulkenberg said, "I heavily regret that, because I would have been happy to stay with Williams. I want to thank the team for a great time and I wish Williams all the best for the future."
Hulkenberg's manager, Willi Webber said, "I am negotiating with other teams. Nico will have his seat in F1 in 2011."
Williams F1 team principal said, "I would like to thank Nico for his hard work this year, and before that in preparing himself for Formula One. We are very proud to have supported him as he secured the Formula 3 and GP2 titles and during his debut in Formula One. At Williams we have for many years tried to bring new talent into the sport, and we are convinced that Nico will go on to great things. We wish him well and hope that our paths will cross again in the future."
Reports claim that Williams was looking to sign Hulkenberg to a multi-year deal, which would have then seen him being placed with the HRT team (which recently concluded a deal to be a technical client of Williams) for next season.
Other stories for NOVEMBER 15, 2010