FEBRUARY 12, 2011
Heidfeld stakes his Renault claim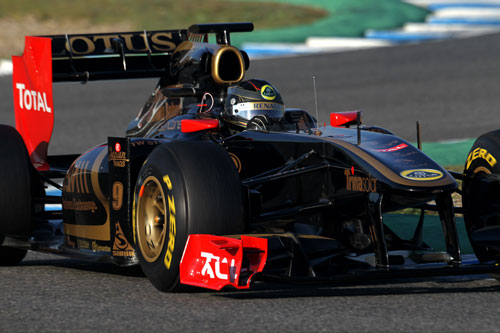 © WRI2
Nick Heidfeld (1:20.361) set the fastest time on day three of the Jerez test as he staked his claim to taking over Robert Kubica's seat at Renault.
As well as Heidfeld familiarizing himself with the car, the team ran flow viz paint as engineers verified aerodynamic characteristics. "I really enjoyed the day," Heidfeld said. "It was fun driving the car although it obviously takes time to get used to things when it's your first time in a car and working with a new team. We had a good day, without too many problems, and luckily all the changes we made to the car went in the right direction and improved things, so I was able to push harder and harder. In terms of the lap times, it's very difficult for me to compare with the other teams because we don't know the fuel levels or what the others were doing. My first impressions of the car were positive, although there are always areas where you can improve."
Team principal Eric Boullier added: "Today we had the chance to give Nick time in the car and we carried out a big evaluation. Our first feelings are very positive: he worked well with the team, gave good feedback and improved the car during the day. We managed to cover 86 laps and the times are encouraging."
Fernando Alonso (1:20.493) took over testing duties for Ferrari, completing 131 laps and finishing the day second fastest after trying all four Pirelli tyre compounds.
Michael Schumacher (1:21.054) ended up just over half a second shy of the Ferrari as Mercedes concentrated on systems checks with the adjustable rear wing and then general balance over longer runs. "At the end of my two test days in Jerez, I can only be happy with what we have achieved here," Schumacher said.
A shortage of spares meant that Lewis Hamilton (1:21.090) was only able to record 36 laps during the third day of McLaren's work. New components will arrive overnight in time for Jenson Button to take over in the new MP4-26 once again tomorrow.
Kamui Kobayashi (1:21.242) had his first full day of testing with Sauber's C30 and concentrated on general set-up work until his day was cut short by an engine problem.
World champion Sebastian Vettel (1:21.574) mirrored Mark Webber's programme from yesterday in Red Bull's RB7, concentrating on longer runs, while Sebastien Buemi (1:21.681) returned to the Toro Rosso cockpit and was only slightly slower as he completed more than a race distance.
"The team has done a good job moving on with the development since I last drove the car in Valencia," Buemi said. "It's definitely better although at the moment there is no point in talking about its performance level, as we are still working on understanding the cars."
Heikki Kovalainen (1:21.711) was driving for Team Lotus, an exhaust problem not spoiling a positive day: "Today was very encouraging and I really enjoyed driving the car. My feeling is the same as at Valencia - it's a fundamentally good car and there's more to come from it."
Rubens Barrichello (1:22.227) found his Wlliams programme interrupted by more KERS problems which cost the team track time again, while Paul di Resta (1:22.945) and Jerome D'Ambrosio (1:25.471) put more mileage on the new Force India and Virgin chassis respectively.
Other stories for FEBRUARY 12, 2011