JULY 3, 2015
Hamilton accepts invite to Rosberg's BBQ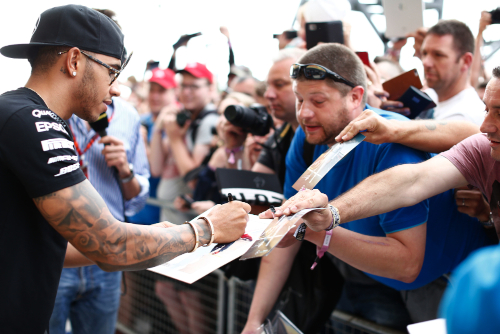 © Active Pictures
They may not be the best of friends, but title contenders Lewis Hamilton and Nico Rosberg will share a gourmet hamburger this weekend at Silverstone.
The Mercedes duo's motor homes are parked side-by-side inside the British grand prix venue, and Rosberg - although joking he would erect a "big fence" between them - publicly invited Hamilton to a barbeque.
"It's very nice of Nico to invite me," the Briton told Bild newspaper.
"Of course I'll go -- free food always tastes the best!"
Hamilton, although the reigning world champion and 2015 title leader, arrives for his home race on the back foot, given his teammate's run of recent form.
1996 world champion Damon Hill has questioned the jet-setting star's mid-season focus.
And another F1 pundit, former driver Marc Surer, agrees: "Hamilton is faster, but he is not always 100 per cent focused. In Austria that was clearly the case.
"So I think it's a great opportunity for Rosberg," the German-language Sky commentator added.
Derek Warwick, the president of the Silverstone-owning British Racing Drivers' Club, said it was "bizarre" that Hamilton elected to let Rosberg do the post-Austrian grand prix test.
But Hamilton said on Thursday: "It's not as if I was skiving or something. I had some doctor check-ups and things in the hospital to do which I felt was more important for making sure I was 100 per cent for here."
He did not elaborate.
Hamilton insisted, however, that it is wrong to suggest Rosberg got a better race start in Austria because he is more involved in Mercedes' development programme.
Actually, Hamilton said the team discovered a "serious issue" with the new clutch system when Rosberg was doing the test.
Team boss Paddy Lowe confirmed: "We actually found Lewis had done an incredible job to manage it as well as he did. Things could have been a lot worse."
(GMM)
Other stories for JULY 3, 2015