SEPTEMBER 13, 2001
Hakkinen poised to quit F1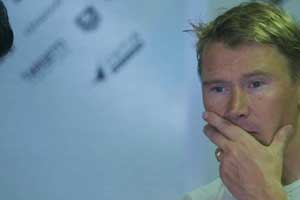 © The Cahier Archive
MIKA HAKKINEN, who won the world championship at the wheel of a McLaren-Mercedes in 1998 and 99, is poised to quit formula one at the end of the season after a largely disappointing final season in which he has so far scored a single win in the British grand prix at Silverstone.
It is expected that the Finn's retirement from McLaren will be announced here at Monza this weekend. His place alongside David Coulthard is set to be taken by his 21-year old fellow Finn Kimi Raikkonen who is currently enjoying a dazzling first formula one season with the Sauber-Petronas team.
Yesterday at Monza McLaren team principal Ron Dennis would not make any firm comment on the issue, but his managing director Martin Whitmarsh, speaking from the team's headquarters in Woking, Surrey, insisted that no decision as been taken.
"We have not yet finalized our arrangements for our driver line-up for next season," he said. "When we do we will make the appropriate announcement."
Jurgen Hubbert, a board director of McLaren's engine partner Mercedes-Benz, was quoted as saying; "you can expect an announcement from our team sometime over the weekend."
However speculation that the 32-year old would retire after Sunday's race have specifically been denied by the team.
It had originally been hoped that Hakkinen would agree to continue for one more season in 2002 while Raikkonen was recruited as test and development driver under his tutelage.
However, sources close to McLaren hint that Hakkinen originally told Dennis that the current season would probably be his last as long ago as the evening after first practice at the Monaco grand prix last May. Dennis is believed to have started serious negotiations with Raikkonen in Montreal during the Canadian grand prix weekend a fortnight later.
It is believed that Hakkinen has tired of the relentless formula one grind after eleven years in the business and he wishes to spend more time with his wife Erja and their young son Hugo who was born just before last Christmas.
Other stories for SEPTEMBER 13, 2001