SEPTEMBER 19, 2014
Furious Alonso threatens to reveal source of rumours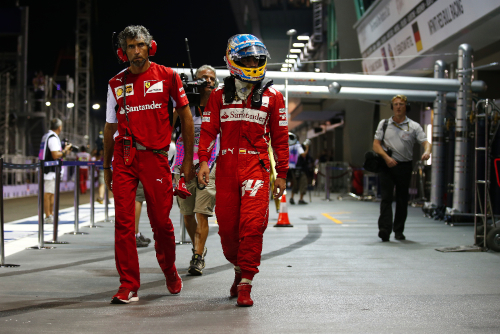 © Active Pictures
Fernando Alonso was "visibly upset" on Thursday as he angrily slammed the latest silly-season speculation about his future.
That is the claim of Spain's EFE news agency, reporting that the Spaniard clearly feels the leaks are being originated not only from Italy, but from within Ferrari itself.
Red Bull had promptly dismissed the rumour last week, reported by Italy's Sky broadcaster, that Spaniard Alonso and Sebastian Vettel were set to sensationally swap places in 2015.
Alonso, however, was reportedly furious when asked about the story by reporters from Italian and Spanish publications in Singapore on Thursday.
"I'm doing a spectacular year, with triple the points of my teammate," he is quoted as saying.
"It may be my best year, with 2012," Alonso added, "and yet every Thursday I have to come to the race and on Thursday put out these fires that come from Italy.
"It's a little bit strange, but I have nothing to say," he insisted.
"If I do say something, I will do it in a few weeks time and somebody will not like what it is," Alonso, clearly threatening to 'out' the identity of the leaker, warned.
"It (the rumours) is not good for anyone. I have worked very closely with the team over the years, trying to create a good environment and going to dinner with the guys, playing sports, and then all these things are coming out of Italy.
"Someday, I'll talk too," he threatened again.
Meanwhile, when asked about the latest upheaval at Maranello - this time the departure of long-time president Luca di Montezemolo - Alonso played a straight bat.
"I am neither further nor closer to Ferrari because of these changes.
"It is true there have been many (changes) -- also (engine chief Luca) Marmorini and (Stefano) Domenicali and maybe there will be others," Alonso revealed.
"Montezemolo has been very successful but I understand that all the changes are to improve the team," he said.
(GMM)
Other stories for SEPTEMBER 19, 2014