MAY 4, 2023
Ferrari struggle different in 2023
Charles Leclerc says it's "too early" to think about extending his Ferrari deal beyond 2024.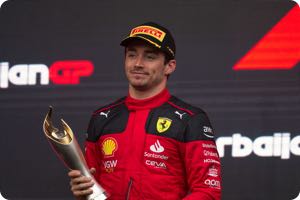 Charles Leclerc says it's "too early" to think about extending his Ferrari deal beyond 2024.
At Baku last weekend, Mercedes boss Toto Wolff stridently denied reports that talks about poaching the 25-year-old Monegasque have already begun.
Indeed, some believe the Leclerc rumours were more about enticing Lewis Hamilton to sign a new deal.
"I hope we can make our package a winning package and have something that can bring him an eighth world title," Wolff said. "We have no doubt that he is motivated enough to achieve it.
"We have a great relationship and together with the team he has been a solid pillar for the last ten years, so we are well placed."
But at the same time, Wolff says Leclerc will remain on the "radar".
"I think he is 100 percent faithful to his contract with Ferrari," said the Austrian. "Just as we 100 percent intend to put pen to paper with Lewis.
"You should always have a guy like Charles on your radar, but not in the short or medium term," Wolff added.
And while 38-year-old Hamilton's contract extension talks are painfully delayed, the seven time world champion is also consistently saying he wants to sign eventually.
"I'm thinking long term," he said. "I don't want to stay here for another year. I want to stay longer."
In the end, that could actually be the stumbling block - Wolff may only be offered Hamilton a new one-year deal so that he is free to sign Leclerc for 2025.
Leclerc is openly admitting that he is concerned about Ferrari's current situation.
"It's not that I'm tired, I'm aware of how lucky I am to be at Ferrari," he insists. "I'm happy.
"But in the same way, I want to win and I'm not happy with the performance of the last few years. It has not been consistent.
"In 2020 and 2021, the situation was clear because of what we were missing. But now it is different. We have not taken the step we expected.
"We have the explanations, but recovering will be something else."
Also obvious is that, with his first drivers' title yet to come, the pressure at Ferrari is also uniquely high.
"It's incredible at times," Leclerc says, "because a lot of people follow you and there are a lot of emotions. But it's also difficult to manage bad situations.
"But this is Ferrari and I would not change it," he told the Spanish sports daily AS.
But when asked if he wants guarantees of success, or a string of certain results, in order to kick off talks about a new Ferrari contract beyond 2024, Leclerc insisted: "No, the trust is there.
"But it has to go both ways. If we're both happy to continue, it will happen. But it's too early to talk about that."
(GMM)