NOVEMBER 16, 2010
Ferrari responds to criticism at home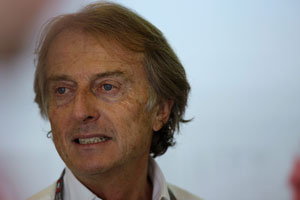 © The Cahier Archive
Ferrari has been under pressure ever since Sunday's Abu Dhabi Grand Prix, which saw Fernando Alonso lose the world championship after pitting in reaction to Mark Webber's stop, that put him back in traffic, thus allowing Sebastian Vettel to take the win, and with it the championship.
The tifosi in Italy are up in arms over the outcome, and many are calling for changes in the Maranello team. The Italian sports daily La Gazzetta dello Sport said, "Some things will change and, sure, some heads will roll." There are many calling for the firing of either Ferrari's chief track engineer Chris Dyer, or Team Principal Stefano Domenicali.
Roberto Calderoli of Italy's Northern League party has even called for Ferrari president Luca di Montezemolo's resignation, who called Ferrari's Abu Dhabi pit plan, a "demented strategy".
Montezemolo responded, saying "We're sorry to see that there are some politicians on the outside who are ready to push for the guillotine when things go badly. We don't understand anyone who revels in self-defeatism, who sinks into the culture of 'everything's gone wrong, we have to start all over again'. They are vices that are very Italian, that we must learn to shake off."
"When statesman Calderoli had achieved in his life one percent of what Ferrari has done for this country, in terms of industry and sports, then he'll deserve an answer."
Piero Ferrari, son of founder Enzo Ferrari , and company Vice President said, "I'm astonished and saddened by certain statements some politicians and a minister of the Italian Republic made after (Sunday's) race. It has never happened in my entire life at Ferrari that politicians have intervened during good and bad moments in our life in motorsport - and I want it to stay like that. But if we want to have a look at how much Ferrari has done for Italy's image around the world, then I can only say that it is definitely much more than certain politics have done."
But team principal Stefano Domenicali has hinted that heads might roll, saying "A mistake was made, which may yet result in changes within the Ferrari hierarchy and which may yet take a while to forget. For sure it was the worst race of the year for us, so that is why it hits you very strong in your head. But after a moment like this the only thing you can do is try to disconnect, breathe a lot and recharge the battery to push people to do a better job next year."
"The good and the bad thing about Ferrari is that we are only allowed to win. Coming second is not an option, and in this context, we need to understand quite clearly where we need to invest and take the right steps to make sure we win next year. We had already started making some important changes this year in our organisation, introducing new methods and new people who will become effective from next year. Reliability is a good place to start and to carry on into next year."
Perhaps triple world champion and ex-Ferrari driver Niki Lauda said it best when he told the press, "There should be three days of mourning, then they all eat spaghetti again and forget the defeat."
<script src="http://connect.facebook.net/en_US/all.js#xfbml=1"></script><fb:like href="http://www.grandprix.com/ns/ns22803.html" layout="box_count"></fb:like>
Other stories for NOVEMBER 16, 2010