APRIL 17, 2023
Ferrari needs technical revolution says Kvyat
A "technical revolution" is required so that Ferrari can win world championships again, according to former Formula 1 driver Kvyat.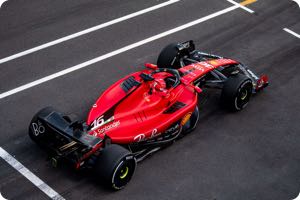 A "technical revolution" is required so that Ferrari can win world championships again, according to former Formula 1 driver Kvyat.
The Russian was a Ferrari test driver for a time after his Red Bull career petered out - and he says he even came close to racing full-time for the Maranello marque.
Before he was relegated from Red Bull to the energy drink team's secondary team, Kvyat - now 28 - says Ferrari offered him a race deal that he presumably turned down.
"I was doing really well and had another podium in China," Kvyat told La Gazzetta dello Sport.
"At that time I also had an offer from Ferrari to replace Kimi - that was going on behind the scenes," he said. "So mentally it was very difficult when I suddenly had to go back to Toro Rosso."
He was later dropped by Red Bull's F1 family completely, but his racing adventure is now ramping up again as he will be a works Lamborghini driver in the WEC from next year.
However, he is having to do it under an Italian racing license rather than a Russian one.
"In that way I do not stop hoping for the best - that calm times will come again soon," he said of the Ukraine conflict and the impact it is having on Russian athletes.
"I have always said that sport should unite. That's my opinion. But I grew up in Italy so we decided that I will race with an Italian license and under the Italian flag.
"This is how everything will be for me now," Kvyat added.
As an honorary Italian, he was therefore asked to comment on Ferrari's latest F1 'crisis', with hopes of a title challenge dissolving amid the dominance of Red Bull.
"I thought it would go differently for them, given the good car they had in 2002," said Kvyat.
"Given the way it is, I would say that it will be difficult for them to bounce back in the short term. Ferrari needs a technical revolution," he added.
"The team has a new boss, but perhaps they should have hired engineers from other teams. They should have done exactly what Red Bull did with Mercedes or Aston Martin did with Red Bull."
Indeed, Aston Martin is even ahead of Ferrari in 2023 so far, and headed from the cockpit by former Ferrari driver Fernando Alonso.
"Fernando is showing that at a certain level, age is not a factor," Kvyat said.
"I think it's too early to talk about his third title, because while the car is competitive it's still not enough to win.
"Also, from a political standpoint, with the Mercedes engine - let's just say it's hard for the client team to win."
Finally, Kvyat predicted that Max Verstappen will stroll to the 2023 title.
"Sergio Perez has a chance, but it is minimal," he said. "Everyone in the team definitely works for Verstappen.
"As for the constructors' championship, I have no doubt that it will go to Red Bull."
(GMM)