APRIL 7, 2023
F1 wants 2024 Japanese GP moved to March
Next year's Japanese Grand Prix could be moved to the last weekend of March, if the plans made by Formula One's CEO Stefano Domenicali come to fruition.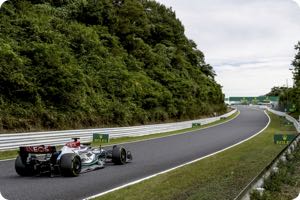 By Luis Vasconcelos
Next year's Japanese Grand Prix could be moved to the last weekend of March, if the plans made by Formula One's CEO Stefano Domenicali come to fruition.
The sport's commercial rights' owner is planning a massive overhaul of its calendar for next year, in a bid to seriously reduce the carbon footprint created by the tremendous amount of long flights the teams and all the equipment have to currently take.
In Melbourne, during last weekend's Australian Grand Prix, Stefano Domenicali informed the teams that plans to create regionally based calendar, with as many races held in the same region in quick succession and that includes a tremendously hard triple header at the end of the season, starting in Australia, stopping in China and being concluded in Japan.
With the Saudi Arabian Grand Prix promoters having now changed their minds for the second time in one month and wanting, again, to host next year's inaugural race, what's now scheduled is that Formula One will test in Bahrain between February 22nd and 24th, before moving to Jeddah, where the first race will be held on March 3rd, one week before the start of the Ramadan.
With this religious event lasting until April 8th, no other races can be held in Muslim countries for five weeks, so Domenicali's plan is to move the Australian Grand Prix forward by two weeks, to March 17th, right at the end of the local summer, but then wants the return of the Chinese Grand Prix to be on March 24th, quickly followed by the Japanese Grand Prix on March 31st.
Given the flight between Melbourne and Shanghai lasts just over ten hours and the normal temperatures in those two cities in the month of March vary around 10º Celsius, it's clear such a double header will be tremendously punishing for Formula One personnel and, also, that Pirelli will have trouble getting its tyres to work with track temperatures that will be well bellow 20º Celsius in Shanghai.
Then things can get even more complicated if the plans to move the Japanese Grand Prix from the end of September to the end of March really go ahead. As it's being perfectly demonstrated by this weekend's Super Formula opening round in Fuji Speedway, around this time of the year it tends to be much too wet and very cold too for motor racing events to be held, so it would make a lot more sense to put the Singaporean Grand Prix as the follow up to the Melbourne event and from there go north to Shanghai, leaving the Suzuka out of this calendar shake-up.
But it has been made very clear by the Singaporean promoters they have no intention of leaving their late summer slot in the calendar, as veteran Colin Syn said in Melbourne: "We've had the race in late September since 2008, this has created a routine for those who come and watch the race and if we change it we may lose some of our more regular ticket buyers, so I've told Stefano I don't want that change to happen."
Given Singapore pays considerably more than Japan for its promoter's fee, their political weight is bigger - the more you pay, the more power you have, as demonstrated by Saudi Arabia's complete command of where in the calendar its race will be placed - so Suzuka may have to brace for a very wet and cold 2024 Grand Prix.
For now, though, Domenicali's plans are still tentative, as he's still working first on expanding the calendar to 25 races next year and then will try to put together a less physically punitive calendar than the one everyone in the sport has to endure in 2023.