MAY 5, 2023
Drivers reject knee-jerk rule changes for overtaking
Formula 1 drivers are urging the sport against making "knee-jerk reactions" amid un-entertaining recent races and Red Bull's dominance.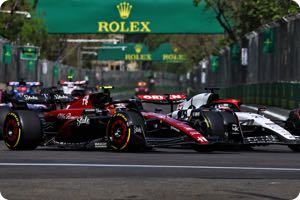 Formula 1 drivers are urging the sport against making "knee-jerk reactions" amid un-entertaining recent races and Red Bull's dominance.
"We either have to do a better job, all of us together, to catch them up," said Mercedes boss Toto Wolff after Baku, "or we have to change the regulations."
According to the drivers, however, there are other things that can be done to help first - like consulting with the Grand Prix Drivers' Association (GPDA) about whether to shorten DRS zones.
George Russell, a GPDA director, slammed the FIA for shortening a key DRS zone at Baku without consultation, and a similar approach has now been taken to this weekend's DRS zones in Miami.
"I think all of us don't really understand why they've been shortened," said the Mercedes driver. "I think the race spoke for itself in Baku."
World champion Max Verstappen, though, thinks the problem is more complex.
"Is the DRS zone too short?" he said on Thursday? "Are the cars not good enough to follow closely? I think it's a bit of a combination of both."
The chassis regulations were completely overhauled ahead of the 2022 season so that the 'ground effect' would make the racing closer and easier.
Many are wondering if the rules have obviously failed.
"I think it's for a couple of races now it's been challenging to overtake," said Russell. "But yeah, there should never be a knee-jerk reaction."
Fernando Alonso, meanwhile, thinks it is Red Bull's dominance that is making the new rules look bad.
"If Red Bull weren't so far ahead, it would be a very interesting fight with three or four teams within 1 to 2 tenths," said the Spaniard. "Maybe then we would say the rules were a success.
"Or maybe it will be the case in a few years, when we have some stability in the rules. It could also be the tyres," Alonso added.
"For sure there were higher expectations from everybody, but I think we still need to give them a little more time."
Alonso is also unconvinced that shorter DRS zones are the biggest problem.
"I heard that Lewis Hamilton called the DRS zones too short, but I believe that they were short for Mercedes due to the fact that they set the car for high downforce," said the Aston Martin driver.
"For Red Bull, the DRS zones turned out to be too long. So for one car they're long, for another they are short. Honestly, Formula 1 has always been characterised by a small amount of overtaking.
"For several years, Lewis Hamilton and Valtteri Bottas, and before that Sebastian Vettel and Mark Webber, always took first and second places," said Alonso.
"Usually after the second and third laps there is not much overtaking, but in Miami it may rain, so we'll see. But I think it's no surprise about the amount of overtaking.
"This is quite normal for Formula 1."
(GMM)