APRIL 27, 2023
Departure of Franz Tost amicable says Marko
Dr Helmut Marko says the departure as long-time Alpha Tauri team boss Franz Tost was "amicable".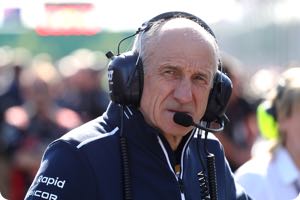 Dr Helmut Marko says the departure as long-time Alpha Tauri team boss Franz Tost was "amicable".
On Wednesday, we reported that Ferrari's sporting director Laurent Mekies - a former top technical executive at Faenza - had signed up to leave Maranello and re-join Red Bull's second Formula 1 team.
The news then became official, with former FIA executive Peter Bayer also joining Alpha Tauri as CEO.
"Franz Tost will step down from the role of team principal at the end of the 2023 season," the team said in a statement.
"Laurent Mekies will join Scuderia Alpha Tauri as its new team principal at a date to be confirmed."
Just one month ago, however, Austrian Tost - who has been boss since 2006 - indicated that he would stay in the role for the next few years.
"I don't have an end-date," the 67-year-old told the Dutch publication Formule 1. "But what is 100 percent certain is that at the age of 70, I will no longer be on the pitwall."
Some might assume that the changed situation could be related to rumours that Austrians Tost and Marko, appointments very much of the Dietrich Mateschitz era, were at odds with new Red Bull chief Oliver Mintzlaff.
Marko, who turns 80 on Thursday, met with 48-year-old Mintzlaff at Red Bull CEO in Salzburg on Wednesday.
"It was an amicable conversation in Hangar-7 with Oliver Mintzlaff," he told Osterreich newspaper. "I was present and so was Franz.
"Tost will remain until the end of the year, after which he will transition to an advisory role," Marko added.
There are rumours Marko could soon follow Tost through the exit door.
"For now it's really not an issue," he said. "Let's win the world championship, then we'll see."
What is clear is that Mekies' departure is a major blow to Ferrari, whose new boss Frederic Vasseur played down rumours the 45-year-old Frenchman was shopping around for another job.
"To have people who are unhappy and people who are leaving are two different things," Vasseur said in March.
"I don't think key people will leave the team."
(GMM)