JULY 11, 2011
Christian Horner on the British GP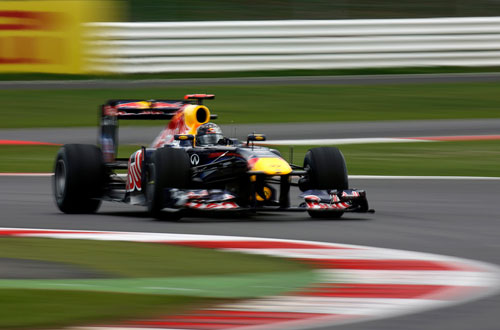 © The Cahier Archive
With the off-throttle blown diffuser row dominating Silverstone off the track and a resurgent Ferrari on it, the last thing Red Bull Racing team principal Christian Horner needed was another team orders controversy, but that's what he got. Horner gave his post-race views to the media and Tony Dodgins was there.
Q: What happened at Sebastian's slow pit stop?
At the second stop the rear jack broke, which dropped the car on the floor and by the time we'd engaged the spare rear jack, he'd lost time and unfortunately conceded track position to Fernando and was also behind Lewis Hamilton. So in the next stint he was fighting Lewis and we had to go for the undercut to make it work, which obviously meant a lengthy stint for that final section.
Q: How much of the Ferrari victory and you not winning was down to the whole blown diffuser saga?
I think for sure we've been... I need to be careful what I say, but I think this weekend obviously the way the engine regulations have been set, and that we've adhered, arguably put Renault at a disadvantage to others, in our opinion. We've accepted that on the basis of having it addressed in time for Germany and I now sincerely hope we've found a solution.
Q: Mark lost time at his first stop as well. What happened there?
It was a sticking nut on the front left. We gave Mark the undercut on the first and second stops obviously to try to assist but unfortunately there was a sticking issue with the nut, which again dropped him track position to Fernando and Lewis at that point.
Q: At what point was the first radio message to Mark telling him to hold position?
About four laps from the end we felt it had gone far enough from a team point of view. There was a big haul of points on the table today and it made absolutely no sense to risk seeing both cars in the fence. So at that point we said okay, that's enough, it's time to consolidate those points.
Q: Are you surprised Mark ignored the orders?
Erm... yes. At the end of the day the team is the biggest thing. No individual is bigger than the team. I can understand Mark's frustration but had it been the other way around it would have been exactly the same. It happened in Turkey, where exactly the same happened with Sebastian, so it makes no sense to risk both your cars. It was obvious that neither was going to concede and, as we saw with Massa and Hamilton at the last corner, when they made contact, it made absolutely no sense from a team's point of view to allow them to continue to fight over that last couple of laps. Mark obviously chose to ignore that and didn't make the pass in any event, but that is the team's position.
Q: For all that, it's only race nine, Sebastian is almost 100 points clear, it's a big race and 120,000 people want entertainment?
At the end of the day the team championship is every bit as important as the drivers' championship to us and we risked giving away 33 points in the last three laps by allowing our drivers to fight it out. As we've seen previously, that can have dire consequences. We said okay, we've allowed them to race up to that point and with three laps to go, rather than risk both of them being in the fence, it's the right decision. As a team it absolutely was. As we see in other sports, sometimes substitutions are made for a team point of view and we weren't going to risk 33 points. The drivers are now first and second in the world championship and we we're going to do nothing to jeopardise it.
Q: Was the decision influenced at all by Ferrari's pace?
Yes. Ferrari was very quick this weekend. Their pace in the second half of the grand prix was impressive by Fernando. We feel we've carried a disadvantage this weekend and have come out with a big haul of points for the team and both drivers. And with the incidents we endured during the race I think we have to be content with the points we've come away with. Both drivers on the podium on a day when one of our main championship rivals (Button) didn't score and Lewis was further down the pecking order.
Q: You've said that contract negotiations (2012) with Mark will be straightforward. Will this change that?
I sincerely hope not. At the end of the day it's about the team. I can understand sometimes a driver will be frustrated with an instruction but my responsibility is to ensure that the team optimised its result, and there would have been absolutely no benefit in both cars coming back on a tow truck.
Q: How much discussion before you said 'maintain the gap'?
Mark's engineer had asked him to maintain the gap a lap or two before and it was very clear that Mark had chosen to ignore it.
Q: You said you'd allowed them to race up to that point. You mean until Mark caught Seb?
Well, no. If you look, we gave Mark the undercut at the first two stops and didn't stop them racing each other at the start. There just comes a point in a race, with a couple of laps to go, when you've got a lot of points, both cars on the podium and it's absolute stupidity to allow them to jeopardise that. We saw it get very close between the two of them and we'd have looked pretty stupid if they'd both ended up in the fence.
Q: How are you going to respond to Mark ignoring the team orders?
It's something we'll talk about in private.
Q: Have you done it before this year?
No. We've never been in a situation on the last lap with both drivers going at it hammer and tongs with a lot of points up for grabs.
Q: But (Red Bull boss) Dietrich Mateschitz has said there will be no team orders at Red Bull?
Mr Mateschitz wouldn't have thanked us for having both cars in the fence on the last lap.
Q: Going forward, is Mark free to race for wins or is he playing the No2 role?
He put it on pole position and he had the opportunity to win this race but it didn't pan out for him. We will continue to give him every chance but from a team perspective I made it quite clear to both in the drivers' briefing, in front of the engineers, that the biggest thing about Silverstone was getting a team result in front of all the staff that put in so much effort to both of those cars. And the drivers have come away with Sebastian having extended his lead in the championship, Mark having moved into second place and the team having increased its lead in the constructors' championship.
Q: How concerned are you about Ferrari's pace?
It was a race of two halves. On the intermediate tyre we seemed to be very strong. And through the middle of the race we were okay, but then the balance seemed to shift during the second half, as the fuel load lightened or the circuit rubbered in and Ferrari's pace picked up. Fernando was obviously very strong and as we see with these tyres, there is a sweet spot, but we've also been running in a configuration that we've not previously been in.
Q: Are the rules that have been agreed to go back to Valencia?
Yes, to draw a line under this. One obviously has to have sympathy for Charlie Whiting trying to pick his way through this. It's impossible to have equivalence because somebody was always going to feel aggrieved, so the best compromise is to go back to where we were at Valencia, so the maps go in before qualifying and then that's it for the weekend.
Q: Why was there not agreement initially, on Sunday morning?
I think two teams (Ferrari and Sauber - ed) just wanted a bit more time to think about it.
Other stories for JULY 11, 2011