FEBRUARY 28, 2010
Barcelona Test, Day 4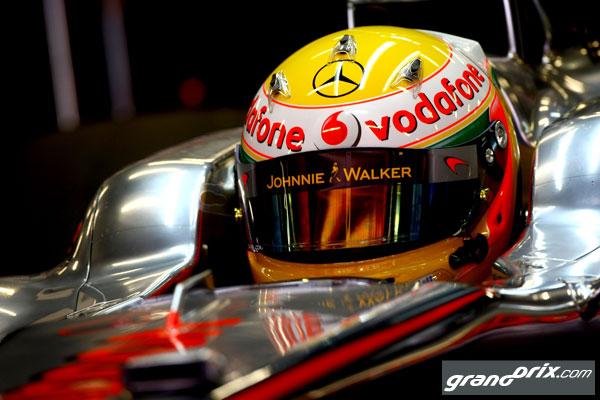 © Grandprix.com, Photo: Andrew Hone
On the final day of testing at Barcelona before the kickoff to the 2010 season in Bahrain on 14 March, Lewis Hamilton went quickest for McLaren. The British team topped the timesheets in three of the four preseason tests - Ferrari only beating them in the initial test in Valencia four weeks ago.
As this was the final day most teams gave their drivers a chance to do qualifying runs in the morning, resulting in eight teams within half a second of one another, showing that it should be very competitive at the first race.
In the afternoon most teams opted to run a race simulation in the afternoon, and while Hamilton was not as impressive as in qualifying trim, the McLaren was still strong.
Having been disrupted by bad weather and technical problems, Red Bull decided to run Sebastian Vettel for four hours in the morning before handing over the car to Mark Webber in the afternoon, and managed the fifth and second fastest laps of the day respectively, the RB6 running more than two Grand Prix distances without any reliability issues.
Felipe Massa put in the third fastest time of the day in his Ferrari and said, "I'm satisfied with the whole of testing, not just Barcelona, but in Valencia and Jerez too. We did what we wanted to do, but it looks like it will be a very tough and competitive championship. We never expected to have an advantage and to go to the first race and win in an easy way, definitely not. We expect to have a competitive car, and this I think we have done. The car is reliable, but also consistent, and that is what we want to start the season."
Adrian Sutil impressed everyone in his Force India, setting the fourth fastest time in qualifying trim, but was not able to match the pace of the top teams while running his race simulation.
Sutil said, "I feel like this was the first proper test day for me. We did our long race simulation and I think we can be quite happy and confident. The pace was good, the tyre life was very good, and I was able to run a lot of laps on both the soft and the hard tyres without any problems so both compounds seem to be working really well for us. Also the qualifying sim went well. Speed-wise the car is competitive and we have to show it in Bahrain now."
Michael Schumacher was sixth quickest in his Mercedes, nearly three tenths slower than Hamilton. Schumacher said, "The four testing days here in Barcelona have helped us to make significant progress with the MGP W01 and I am feeling quite confident for the start of the season. It is always difficult to read too much into testing but knowing our programme, it is fair to say that the times did not always reflect the true picture. We have worked through many set-up and development evaluations this week and gained valuable information to study before Bahrain. We are heading the first race with a good feeling and we know that we will have our upgrades there. But most of all we know that our prospects for even the first races are looking very reasonable now."
Technical Director Ross Brawn said, "Today brings our pre-season testing programme to its conclusion and overall we are very pleased with the progress made with the MGP W01 and the integration of Michael and Nico into our team. In performance terms, we are not quite where we want to be yet but then again we are not far off. In testing, it is always difficult to be precise about your position relative to the competition, and we have our complete upgrade package due for the first race in Bahrain which should bring further improvements. Michael and Nico have both looked very good during the tests and they are working well together to improve the car."
Rubens Barrichello was seventh quickest in his Williams and showed the team has made some progress. During the day the Brazilian caused two red flags in the sessions, once for going off the road, and the second time for parking his car with a hydraulic problem.
Barrichello said, "We have improved - we can only say for ourselves - but we have improved a good second from Valencia. We feel competitive, but I think Williams-Cosworth can be one of the teams to surprise people this year. But like I said it's really, really difficult and I'm just keeping myself very clear, my feet on the ground, and just working as hard as I can. But I feel the car is on a competitive level."
Kamui Kobayashi also caused two red flags with his BMW Sauber, with a gearbox problem and later with a fuel pump problem. Kobayashi said, "We didn't manage to achieve the expected mileage today because of technical issues. However, for me it was still a good day because we ran through several procedures forthe first race weekend. As I said yesterday, these things are very important for me and I can see I'm improving. I feel ready for Bahrain."
Sebastien Buemi was ninth quickest in his Toro Rosso, and the German ran a race distance in the afternoon with lap times comparable to the Force India and Williams.
Buemi said, "I am pleased with my two days here in Barcelona. Today, we concentrated on doing a scan of various mechanical set-up options as well as some aero work. Overall, I think we are in good shape and now I'm looking forward to the first race to see where we stand compared to everyone else."
Robert Kubica spent the day trying various new parts on his Renault, and working on the set-up of the car, and in the afternoon the Polish driver completed a race distance.
Kubica said, "In the morning we lost a lot of track time with a technical problem. In the afternoon we tried to do a race distance, which was interrupted, but we did cover a lot of laps. Afterwards we just did a couple more runs for set-up work to try and improve the car a bit more."
Chief Engineer Alan Permane said, "Our final day of testing was a mixed one as we suffered a problem with the gearbox on the installation lap, which limited our running. We managed to get back out at the end of the morning to evaluate some new aero parts and also worked on improving the set-up of the car. For the afternoon we tried to cover a race distance, and although it was interrupted, we did cover the desired number of laps. To end the day we returned to our set-up programme."
Heikki Kovalainen had a run in the Lotus, managing 65 laps, but the car continues to have minor gearbox and hydraulic issues. Hydraulic issues also plagued Virgin's final day of testing with Lucas di Grassi managing only 47 laps, to bring the team's total of the week to just 161 laps.
1. Lewis Hamilton (McLaren MP4-25-Mercedes), 1m20.472s (134)
2. Mark Webber (Red Bull RB6-Renault), 1m20.496s (59)
3. Felipe Massa (Ferrari F10), 1m20.539s (113)
4. Adrian Sutil (Force India VJM03-Mercedes), 1m20.611s (99)
5. Sebastian Vettel (Red Bull RB6-Renault), 1m20.667s (76)
6. Michael Schumacher (Mercedes MGP W01), 1m20.745s (122)
7. Rubens Barrichello (Williams FW32-Cosworth), 1m20.870s (83)
8. Kamui Kobayashi (Sauber C29-Ferrari), 1m20.911s (67)
9. Sebastien Buemi (Toro Rosso STR5-Ferrari), 1m22.135s (87)
10. Robert Kubica (Renault R30), 1m23.175s (106)
11. Heikki Kovalainen (Lotus T127-Cosworth), 1m25.251s (65)
12. Lucas di Grassi (Virgin VR-01-Cosworth), 1m26.160s (47)
Other stories for FEBRUARY 28, 2010