FEBRUARY 27, 2010
Barcelona Test, Day 3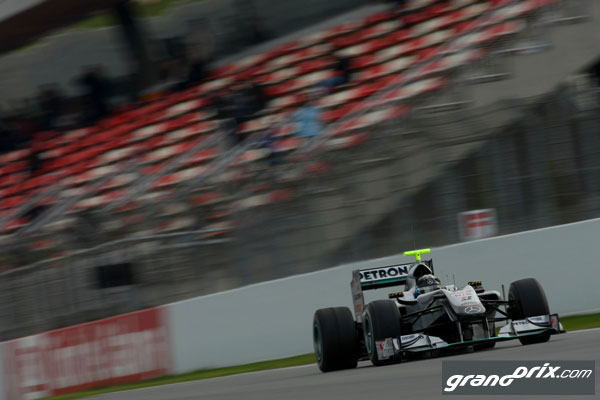 © Grandprix.com, Photo: Andrew Hone
On the third day of testing at Barcelona, drizzle in the morning and a few rain showers in the afternoon disrupted many of the programmes that the teams were trying to accomplish. In the last few hours of the day the track conditions were slower - the times of the fastest two runners, Rosberg and Buemi, coming during the morning, and the fastest of the next four on the time sheet coming in the afternoon.
Even though Michael Schumacher had been negative yesterday about the Mercedes' performance, Rosberg posted a competitive lap time today. Rosberg said, "We had a good day today and made some significant progress in terms of set-up which was nice to see. We hadn't got the most out of the car in terms of performance over the last couple of days, but we made a step in the right direction today. We went through some big changes this morning step by step and found some good improvements. The longer runs this afternoon were interesting. We learnt a lot as there were other cars running similar programmes at the same time so we were able to do some comparisons. There is still plenty of room to improve but overall we're looking in pretty good shape."
Schumacher will take over the car tomorrow.
Sebastien Buemi was second quickest of the day in his Toro Rosso, having done a qualifying simulation early in the morning, and a race simulation in the afternoon. He brought out a red flag late in the day when he ran out of fuel on the track.
Buemi said, "Despite the rain, my first day in Barcelona has gone well. Carrying out a race simulation was very useful and it was particularly interesting to see how the tyre behaviour changed depending on the fuel load. In the races, it will be important to drive smoothly, as on full tanks it is very easy to damage the tyres if you slide too much. Today was good and so we can try and improve a bit more tomorrow, our last chance before Bahrain."
Technical Director, Giorgio Ascanelli said, "With just one more day of pre-season testing remaining, It is very encouraging that we have successfully completed two race simulations on two consecutive days."
Jenson Button was third quickest and completed a race distance in the afternoon in his McLaren, and then did some shorter runs at the end of the day. Button said, "Our race run was great. It was quite fun because there were lots of other cars out on circuit doing the same thing, especially the Ferrari - and there was a bit of rain thrown in there as well for five or six laps. So it was a lot of fun, and it is interesting to see what happens through the race - from 150-160kg down to low fuel. And it is about managing the tyres, managing the fuel load. It is going to be tricky, but we had a lot of useful information today. At the end we had some lower fuel runs - and there is definitely more to come from this car."
Rubens Barrichello was fourth quickest in the Williams, and had a spin in the morning in slippery conditions, but was back in action, completing a race distance in the afternoon, and a few short runs late in the day. Barrichello said, "We covered 101 laps today, which is always good. Unfortunately, we had some rain during the day which affected the programme a little bit. Everything that the team has brought to this test seems to be working well, so it's been a positive day altogether."
Felipe Massa was fifth quickest in the Ferrari and concentrated on race simulation, impressing onlookers with his pace and consistency. Massa said, "Once again we completed the program we had in store for today, and the race simulation went quite well, even though the track was not in ideal conditions in the afternoon. Tomorrow we'll be able to complete our pre-season preparations, as the weather should be more favourable, and we'll head to Bahrain knowing we'll be competitive. But only on Saturday afternoon, in qualifying, we'll find exactly where we stand in comparison with our main rivals."
At Renault, Vitaly Petrov completed his test programme for the day, despite only finishing suspension modifications until mid-day. Petrov said, "Another day of changing weather so we lost some time in the morning with the rain, but fortunately it was dry in the afternoon. We had a lot planned as it was my last day in the car before Bahrain and we did some good work and we've improved the car quite a bit. The qualifying simulation was useful and it was important I did this before the first race."
Chief Engineer Alan Permane said, "It was a better day for Vitaly. We had a few issues with the car in the morning that we carried over from yesterday, but we very quickly got on top of them. The car was then much to his liking just before lunch. Unfortunately we had a little bit of rain again this morning, but managed some work in the afternoon carrying various fuel loads and Vitaly finished the day quite happy with the car. It's a shame that he couldn't have run a bit more today, but it was good to get a decent day of running."
Adrian Sutil took over at Force India today and was seventh quickest. Sutil said, "It was OK today but a little disappointing not to have been able to have more running. Again we have had rain so we had to wait some time to get some decent running. We only got 61 laps as I was hoping for better weather, particularly after last week's test in Jerez. Tomorrow should be better so that's when the real programme can start for me with a race simulation."
Sebastian Vettel had a difficult day with his Red Bull - gearbox problems sidelining the German for much of the day. Vettel said, "It wasn't the day we hoped for and as far as I'm concerned that's it until the first race. Hopefully the weather will be great on Sunday and Mark will have the chance to complete our program, so we'll be in good shape for Bahrain."
Mark Webber will take over the car tomorrow.
Trulli in the Lotus, Kobayashi in the BMW Sauber and Glock in the Virgin rounded out the runners - Lotus and Virgin still suffering teething problems.
Best Times:
1. Nico Rosberg (Mercedes MGP W01), 1m20.686s (128)
2. Sebastien Buemi (Toro Rosso STR5-Ferrari), 1m21.413s (106)
3. Jenson Button (McLaren MP4-25-Mercedes), 1m21.450s (105)
4. Rubens Barrichello (Williams FW32-Cosworth), 1m21.975s (100)
5. Felipe Massa (Ferrari F10), 1m22.344s (115)
6. Vitaly Petrov (Renault R30), 1m22.523s (68)
7. Adrian Sutil (Force India VJM03-Mercedes), 1m22.6060s (61)
8. Sebastian Vettel (Red Bull RB6-Renault), 1m23.123s (51)
9. Jarno Trulli (Lotus T127-Cosworth), 1m25.059s (102)
10. Kamui Kobayashi (Sauber C29-Ferrari), 1m26.216s (105)
11. Timo Glock (Virgin VR-01-Cosworth), 1m26.305s (31)
Other stories for FEBRUARY 27, 2010