JUNE 12, 2011
Analysis: McLaren ruing Canada rear wing choice?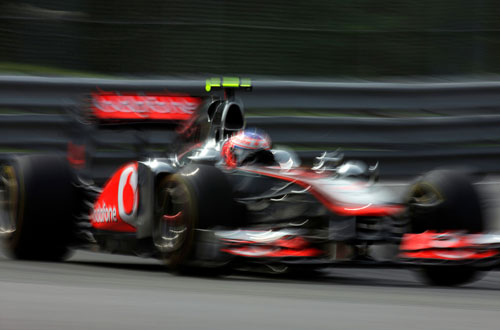 © The Cahier Archive
Given McLaren's strong Canadian GP record, there seems to be split views on whether they have made the correct downforce choice for this year's race.
On Friday, technical director Paddy Lowe was asked how much of a low downforce set-up the team had for Montreal.
"Nothing particularly special," he said, "nothing like we would have done in the past. I think as we have seen the regulations push us into a smaller and smaller box, the difference between a high downforce circuit such as Monaco and a low downforce circuit such as Canada has become less and less, and that is true for us here."
Post-qualifying, however, with Lewis Hamilton and Jenson Button fifth and seventh respectively on the Montreal grid, a look at the qualifying speed trap figures revealed that the McLarens were well down.
Quickest through the trap was Jaime Alguersuari's Toro Rosso (324.2kph), followed by team mate Sebastien Buemi (323.6), then came the Mercedes-engined cars of Adrian Sutil (322.0), Michael Schumacher (321.3), Nico Rosberg (321.3) and Paul di Resta (320.5). Sebastian Vettel's Red Bull was next (320.0).
Button's McLaren-Mercedes, meanwhile, registered 316.7kph and was 15th quickest, while Hamilton logged 314.5kph and was 19th fastest.
Team principal Martin Whitmarsh said after qualifying: "We're not as quick as we should be on the straight, evidently. In my view we have got too much drag here, we're losing too much time on the straight. If it's wet it might not be as big an issue, we'll see.
"Also, I think several cars have more powerful DRS than us and in qualifying that's a bigger advantage. Mercedes and Ferrari's DRS systems are more powerful than Red Bull's and McLaren's and this is a circuit where that's an advantage. I think the set-up that we have is better for the wet than it is for dry. If we had a smaller wing we might well have been trying it this afternoon, but we didn't. All of us would agree we'd like to be quicker on the straight, especially in dry conditions."
Hamilton's situation was not helped by a wrong choice of top gear.
"Again," Whitmarsh said, "you have to make a judgment about where the wind direction is going to be during qualifying and the race, what it's strength is, the extent to which you hope to get tows in the race, and set your gear accordingly. But to do the best time today, Lewis did not have the right seventh gear."
Whitmarsh explained that getting more gain from the DRS rear wing can come at a price.
"You can design a rear wing where the DRS switching is quite significant," he said, "but there might be a trade for that, for instance in its unswitched condition it might be a less efficient wing. At the moment, in our view, Red Bull and McLaren's rear wing has a less powerful DRS switching than some of the other guys but that doesn't mean that their overall trade is better because they've probably traded some efficiency of the wing when it isn't switched.
"Ferrari has improved. Mercedes was top of the class if you were just talking about the switching power of DRS - that was clear early on. But there were a number of drawbacks -- Mercedes discovered for themselves that the reattachment when you were switching was not always as crisp as you'd like it to be, and the other trade in our analysis was that in developing that high switchability you sacrifice a bit of the efficiency of the rear wing, so that's why we've been going around the loop. Red Bull and ourselves have been fairly evenly balanced."
On the downfore question, Button explained: "Paddy (Lowe) was correct when he was talking about running more downforce than previous years. The quicker cars are doing the same sort of speed they were in previous years but they've got DRS and KERS, so we must have more downforce than previous years. It's just that we have more drag than the others, that's the only issue.
"I don't really know if we have more downforce than the other cars in front. I think that the Red Bull has a new rear wing here, which is a different DRS system, which is giving them more straightline speed. I think the Ferrari has got another engine mode, which they are using for qualifying, the Ferrari has got a very good DRS and so has the Mercedes, so I think in qualifying mode they are very quick.
"In the race it all comes back to us. You don't use DRS (for the whole lap), you don't use the engine modes that some people use in qualifying and so we will have a much better car in the race compared to our competitors. I don't think we'll have more downforce but we'll be much more competitive in the race compared to the other top teams. If it's wet we'll make the best of it."
As to why McLaren didn't have a lower drag rear wing in Canada, Whitmarsh said: "We thought we had it right for these conditions. Until you get here and find out how much grip the tyres have, sometimes you get it wrong. I believe we could and should have had a lower drag wing here but the engineers took some decisions and decided where to prioritise the effort. That decision was made months ago because you don't dream up a rear wing in a week."
Other stories for JUNE 12, 2011