AUGUST 30, 2011
Analysis: Looking at the numbers from Spa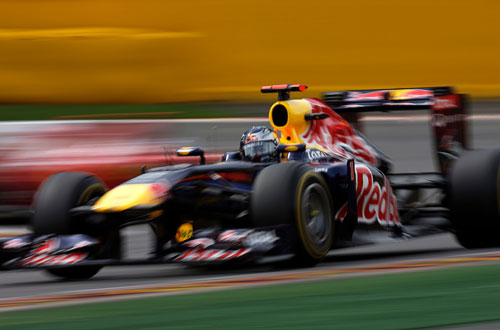 © The Cahier Archive
BY TONY DODGINS
If Red Bull Racing's Belgian GP performance was compromised slightly by tyre safety concerns, you wouldn't have known.
Ferrari thought that its performance on the medium tyre was the reason that Fernando Alonso failed to finish on the podium and Jenson Button, although happy at starting 13th and finishing on the podium, felt that McLaren had winning pace and that Belgium was a missed opportunity. When they have a close look at the race history chart, they might revise their opinions a little -- the Red Bull was significantly quicker on both the option and the prime tyre.
At first, the race looked like it might come to Ferrari. Despite Felipe Massa qualifying fourth and Fernando Alonso eighth, after he was held up by traffic, the car is usually kind to its tyres and there was deep concern at Red Bull about blistering issues.
Alonso was fifth at the end of the opening lap, passed Lewis Hamilton on lap 2, team mate Massa on lap 4, was up to second when leader Sebastian Vettel pitted on lap 5 and took the lead from Nico Rosberg on lap 7.
By that stage though, the Ferrari was starting to blister its left front and Alonso pitted after eight laps. He was back up to second, 5.5s behind Vettel when the Safety Car emerged following Lewis Hamilton's high-speed contact with Kamui Kobayashi on lap 13. Vettel had done eight laps on his new option tyres by then, but Alonso only five. Red Bull pitted Vettel again for a fresh set but Ferrari kept Alonso out.
"We think it was the right decision," Ferrari team principal Stefano Domenicali said. "Fernando would have fallen into traffic and his race would have been much more difficult. We wanted to be in a position to attack because we had quite good pace.
"Also, Vettel seemed to struggle with the soft tyres but was able to get a pit stop for more softs which cost him less time than if the Safety Car hadn't happened."
Vettel, actually, didn't appear to be struggling with the options at the start of the race. Once he'd stopped early to allay fears about the ones he'd qualified on, he lapped in 1:51.97 on lap 19 on his second new set, taken when he stopped under the Safety Car six laps earlier during a 17-lap stint on the same tyres.
Alonso's best lap on the option, meanwhile, was a 1:52.90 on lap 21. They were 13 laps old at that point during a 21-lap stint Alonso did before switching to the prime.
Button, meanwhile, had started on the prime tyre from 13th on the grid but bolted his first set of options on early, when he stopped for attention to his wing damage. He spent much of his early race in traffic but, by way of comparison, did a 1:52.56 on 16 lap old options in clean air on lap 29.
After having warm-up problems on the prime tyres early in the season, most notably on Pirelli's hard compound in Barcelona, Ferrari hoped it had solved those issues in recent races via a revised aero package. It was hard to know for sure because the use of intermediate rain tyres clouded the picture by taking away the need to race anything but the option tyres at Silverstone and Hungaroring. Ferrari was encouraged by its Friday running on the hard tyre at Silverstone, however.
But, on Sunday night at Spa, Domenicali was again grimacing about Ferrari's pace on the medium tyre in the last third of the Belgian GP.
"Our race was spoiled by the performance on the harder tyres," he said. "And some situations gave a little advantage to our competitors and they were able to take an advantage. Button, for example, didn't pay the price for changing the wing at the pit stop and had a new set of softs at the end.
"We saw that Webber was performing well on the medium tyre and we cannot be happy about the fact that when the harder tyres are not working in the proper range, we are not able to match the pace. That's our biggest task to work on for next year's car."
The lap times for the last third of the Spa race make interesting reading given that the tyres were pretty comparable: Alonso took new mediums on lap 29, Vettel on lap 30 and Webber on lap 31.
At the time, Alonso was 6s behind Vettel's Red Bull. He finished the race 13s adrift, so lost a fraction over half a second a lap to the race winner over the final stint. There is nothing to suggest that Vettel was in any particular hurry, however.
Behind Alonso though, Webber certainly was. The Australian was 6s behind the Ferrari when he crossed the line at the end of lap 32, on his fresh mediums. Next time around, he set the race's fastest lap, 1:49.88. This was obviously the new tyre 'golden' lap but Webber's laps 33/34/35 were all more than 1.5s quicker than Alonso, whom he passed on lap 37.
Still hard on it, Webber did another sub 1:50 time on lap 39 (1:49.99). Alonso, although he'd been passed, was also still on it, knowing that he was being closed down by Button's McLaren on a set of options. Fernando's quickest time on the primes was 1:51.10 on lap 41, the lap before Button passed the Ferrari.
Over the final 12 laps, Alonso lost 15.3s to Webber's Red Bull, going from 6s ahead to 9.3s behind, an average of 1.27s per lap.
At Spa, Ferrari had reverted to an old specification rear suspension that had not been used at the last three races. Did Domenicali think that with hindsight, it may have been the explanation?
"I don't know," he said. "For sure we came here with a clear idea that it wasn't a problem and I can't say that it was, but whenever we have the tyres out of the working range, we suffer. It's related to a lot of factors that it would be great to have a clear vision of."
Even more sobering for Red Bull's opposition was the fact that Button, on a final set of new options that were a lap fresher than Webber's primes, recorded his quickest lap of the race, 1:50.06, on lap 39. This was the same lap that Webber went 0.07s quicker than that on his primes which, going into the race, were reckoned to be a second a lap slower than the options...
On that evidence, Jenson need not feel too disgruntled. Spa certainly hadn't gone smoothly but, assuredly, he came away with the best result feasible without a Red Bull RB7.
Spa, all in all, was a phenomenal performance from the constructors champions. Despite running a skinny rear wing that gave them impressive top speed and protected them in sector one, they were still devastatingly quick through the twisty sector two.
Ultra low downforce Monza is next. Last year witnessed that great battle between Alonso and Button. It's a one-off aero package but, on this evidence, you even wonder if Red Bull might win in Italy too.
<script src="http://connect.facebook.net/en_US/all.js#xfbml=1"></script><fb:like href="http://www.grandprix.com/ns/ns23524.html" layout="box_count"></fb:like>
Other stories for AUGUST 30, 2011