MARCH 18, 2011
Analysis: Bernie against small capacity turbos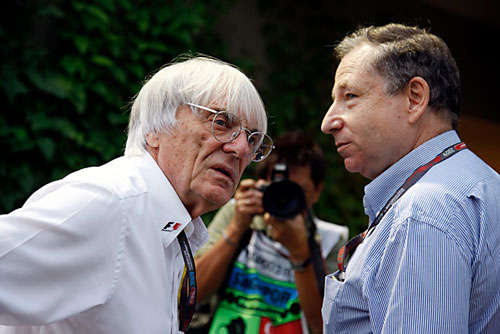 © The Cahier Archive
News that Bernie Ecclestone is at "at loggerheads" with FIA president Jean Todt over the move to small capacity turbocharged engines in 2013 is interesting.
Talking to Australian Associated Press ahead of the Melbourne season-opener, Ecclestone said: "I'm anti, anti, anti, anti moving into this small turbo four formula. We don't need it and if it's so important it's the sort of thing that should be in saloon car racing.
"The rest of it is basically PR - it's nothing in the world to do with F1. These changes are going to be terribly costly to the sport. I'm sure the promoters will lose a big audience and I'm quite sure we'll lose TV.
"He (Todt) is not a promoter and he's not selling F1 to be honest. Jean and I are a little bit at loggerheads over this engine. I don't see the reason for it. We had the KERS system and this was supposed to solve the problem that F1 is not green and now we've got something else.
"I meet people worldwide in all different walks of life - sponsors, promoters and journalists and I think there are two things that are really important for F1; one is Ferrari and second is the noise. I brought some Russian gentlemen to Singapore and met them afterwards in Russia - it was the first race they'd ever been to and I said what was it that impressed you. I didn't even think about the noise but they said the most important thing was the noise - it's incredible, it really gets to you. Even more so the women - the ladies love the noise."
The suspicion is that politics is at play here. The unity of the Formula One Teams Association (FOTA) threatens to make discussions over the 2013 Concorde Agreement very prickly for the commercial rights holder, with not much chance of agreeing a deal on terms anything like as favourable as those of the past. Asked whether he foresaw another round of squabbling and threats of breakaways that have become par for the course in the F1 paddock, FOTA's Martin Whitmarsh said: "I don't think the teams and the FIA will have any difficulty when we get to the Concorde Agreement..." The commercial rights holders were conspicuous by their absence from that sentence.
Ecclestone and Max Mosley proved a formidable partnership in building F1 into the global heavyweight that it has become, Ecclestone (and quite a few team principals) becoming fabulously wealthy on the back of it. Now, however, Mosley is no longer the driving force at the FIA and Ecclestone, to a large extent, cashed in his chips with the sale of a large portion of his F1 equity to a number of buyers, culminating in the deal with existing owners CVC Capital Partners.
What is particularly interesting about Ecclestone's take, and the timing of it, is that Ferrari was among those who were most vociferous against the change to the small capacity turbos, not least because they exclusively build the type of cars into which you are not going to insert a small capacity turbo, hence the marketing validity is somewhat limited for Maranello.
And Ferrari, as Ecclestone points out, is one of the most important factors in the F1 equation. Is this one of Bernie's classic destabilising tactics? It will be interesting to see what sort of noises come out of Maranello on the issue.
The noise point does seem to be something of a red herring. Those with longer F1 memories recall the arrival of the 1.5-litre V6 Renault turbo at Silverstone in 1977, which ultimately sparked a turbo era in F1 until normally aspirated engines were made mandatory at the end of the eighties. The engines sounded different certainly, but quiet? No. Deep, throaty and raucous were the most oft-used descriptions.
Last year, at Monza, Cosworth boss Tim Routsis spoke to the press about the 2013 engines, addressing a number of concerns, including noise. He didn't seem to think it was an issue and confirmed that everyone was certainly well aware of its importance.
Early on in the previous turbo era there was a slight PR issue for F1 when cars started to use too much boost and run out of petrol towards the end of races. It was believed that F1 should not become an economy run. The new regulations will be written in such a way that hopefully avoids that but, times change, and with the price of fuel heading northwards every day and instability in key political regions threatening to keep things that way, the way such a thing would be received today would no doubt differ considerably from 30 years ago in any event.
Other stories for MARCH 18, 2011