SEPTEMBER 28, 2023
Alpine in no rush to sign up new F1 team boss
Alpine's interim boss Bruno Famin insists he is under no pressure to find his full-time replacement.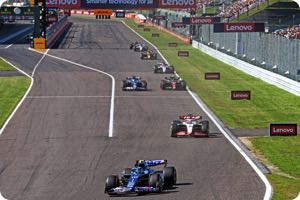 Just ahead of the summer break, the Renault-owned team's management turmoil stepped into an even higher gear when boss Otmar Szafnauer was sacked.
And not long before that, former FIA official Bruno Famin become the new vice president of all of Alpine's racing operations, including the Le Mans campaign.
He then succeeded Szafnauer as team principal - but only on an interim basis. In the meantime, former Ferrari boss Mattia Binotto has been linked with the full-time role and has even been spotted at grands prix.
But Famin says he is not under pressure to appoint his permanent successor.
For the time being I'm assessing everything, he said. I think the changes I've seen so far are quite good on the track side of things.
As for the Binotto rumours, Famin is giving nothing away for now.
It's not a question of a person, it's a question of having all the people together, he said.
Famin insists he is happy with both Esteban Ocon and his new French teammate Pierre Gasly - who crossed the line at Suzuka furious with a team instruction to let Ocon past and clearly displaying his middle finger.
Famin, though, says Gasly is still settling in.
I think we're trying to solve maybe some communication problems we had between the technical teams and him, trying to make it more comfortable, he said prior to the team order controversy.
(GMM)