APRIL 28, 2023
Alpha Tauri aggressive with Mekies news says Vasseur
Red Bull-owned Alpha Tauri was "aggressive" in announcing Laurent Mekies' departure from Ferrari, according to team boss Frederic Vasseur.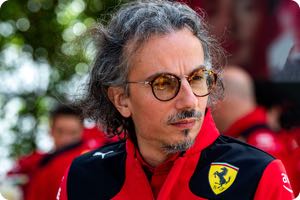 Red Bull-owned Alpha Tauri was "aggressive" in announcing Laurent Mekies' departure from Ferrari, according to team boss Frederic Vasseur.
As an exodus of top personnel continues at the Maranello-based team, Ferrari driver Carlos Sainz admits sporting director Mekies "obviously" would have been interested in an offer to replace Franz Tost.
"We're also hiring staff," said the Spaniard. "It's not like we're only losing them.
"It's just that maybe sometimes the losses are quicker than how you get people back. But I'm quite confident with Fred's approach to the management and the way it's being handled," Sainz added.
In the Alpha Tauri press release, there was no mention of a specific starting date for Mekies, even though Tost will only leave his post at the end of the season.
"They were a bit aggressive with the press release," Vasseur said at Baku. "Especially considering the long contract period."
Indeed, it is believed Mekies is actually under contract at Ferrari until the end of 2025.
"It's a huge opportunity for him," fellow Frenchman Vasseur admitted. "We don't want to block him.
"I also understand that there are only ten team bosses in Formula 1. The requirements are very specific and the list of candidates is very short."
Nonetheless, Vasseur said an agreement with Alpha Tauri about Mekies' start date is yet to be agreed.
"Of course I have to represent Ferrari's interests here," he said. "Ferrari comes first when we discuss the details of the change.
"So it depends on the conditions."
It's an awkward time for Ferrari, given the performance struggles so far in 2023 and now an exodus of top staff.
"Two out of 1,600 is not a drama," Vasseur insists. "We are currently looking for new employees but the recruitment process in Formula 1 is always time-consuming and painful.
"We're right in the middle of it and we're taking it step by step."
It is understood that 67-year-old Tost's impending departure was only agreed during a meeting in Salzurg with new Red Bull top executive Oliver Mintzlaff.
"Yeah, it was really surprising news for me," said Alpha Tauri driver Yuki Tsunoda. "I had lunch with him, like, five days before the news and he didn't mention anything."
Finally, there is also speculation that tension between Mintzlaff and Dr Helmut Marko could result in the retirement of the newly 80-year-old Marko.
"I think there's a few years of work left in the old boy," Red Bull team boss Christian Horner said on Thursday.
Marko told tz newspaper: "I'm not thinking of resigning and I'm not aware that others want that either.
"I still enjoy the work, precisely because it is a special thing to be able to work with a gifted driver like Max Verstappen."
Marko said Mintzlaff will be at the next race in Miami and "we'll meet again there too".
(GMM)