NOVEMBER 7, 2014
Alonso delay puts cloud over Button's future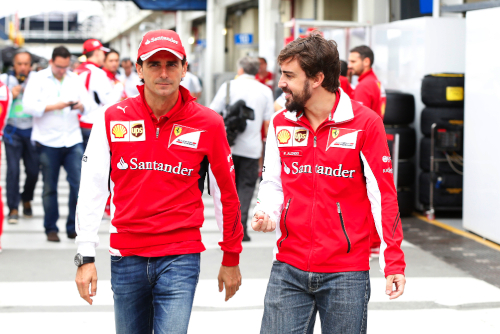 © Active Pictures
On the one hand, everyone in the F1 paddock now knows what the top of the grid will look like in 2015.
On the other, everything is still unclear.
"Yes, I know what he's doing," Sergio Perez, referring to the key to the driver market, Fernando Alonso, told Spanish broadcaster TV3.
In the last few days, it has become clearer and clearer that speculation Alonso is headed to McLaren-Honda for 2015 is definitely true.
Insiders now strongly believe that his teammate will be Kevin Magnussen, even though the Danish rookie is saying little.
McLaren is being criticised by seasoned pundits for leaving its decision so late, endangering not only Magnussen's new career, but especially the 2009 world champion Jenson Button.
Asked if he feels let down, Magnussen said on Thursday: "No, because I understand why I've not been told yet. They have a reason for it."
The fact Magnussen has not featured at all in the 2015 'silly season' would seem to be the strongest sign that it is the veteran Button who is moving on.
Indeed, the 34-year-old's body language was palpable in the Interlagos paddock.
"Er. I don't know," Button said after a long pause, when asked by reporters if he would even accept an offer to stay with the Woking team now.
Asked if he feels disrespected by McLaren, he added: "That's something I'm not going to answer. Unfair question.
"When you're put in a position where you don't know if your contract is going to be renewed it opens your eyes to different possibilities -- whether it's racing, doing another sport or something different altogether," said Button.
It seems clear the Button-McLaren marriage is ending. He said he spoke in Austin with team supremo Ron Dennis for "less than a few minutes".
Button's former teammate Lewis Hamilton said he will be shocked if Button is forced out of F1.
"J.B.'s leaving? Really?" he exclaimed.
"Jenson's better than most of the drivers, so it (the news) doesn't correlate. It's not that the team needs a better driver, they just need a better car," said Hamilton.
It is now obvious that the conspicuous holdup is due to the contractual situation between Alonso and Ferrari, with the party who blinks first set to lose up to $50 million.
He rejected any talk that McLaren has imposed a deadline.
"I don't think there is any deadline to decide," said Alonso on Thursday.
"This week McLaren is saying something, last week (Gerard) Lopez of Lotus said we were talking, which is true but it's for a project outside formula one."
So, as has been the trend for the past several races, Alonso gave another of his now-familiar rumour-quashing appearances for the press in Brazil.
"Last week they said I was going to buy Marussia for one dollar," he laughed, "which is absolutely untrue."
He insisted he has not even ruled out staying at Ferrari, but opened the door to being ejected by the fabled Italian team.
"If they feel they need to be more motivated or to work in the future with less pressure," he said, "then I'll understand."
(GMM)
Other stories for NOVEMBER 7, 2014