SEPTEMBER 30, 2009
Alonso confirmed by Ferrari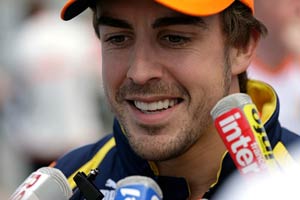 © The Cahier Archive
Scuderia Ferrari Marlboro has announced that it has reached an agreement with the driver Fernando Alonso. The agreement covers three racing seasons, starting in 2010. The Scuderia's driver line-up next season will therefore be made up of Felipe Massa and Fernando Alonso, with Giancarlo Fisichella in the role of reserve driver.
Kimi Raikkonen will leave the team at the end of this current season.
"We are very proud to welcome to our team another winning driver, who has demonstrated his amazing talent by winning two World Championships in his career to date," said Stefano Domenicali. "Of course, we wish to thank Kimi for everything he has done during his time with Ferrari: in his first year with us, he managed to win the Drivers' title, thus making his contribution to Ferrari's history and he played a vital role in our taking of the Constructors' title in 2007 and 2008. Even during a difficult season like this one, he has demonstrated his great talent, with several good results, including a great win in Spa and we are sure that we can share more good times together in the final three races of this season."
"With common consent, we have agreed to terminate the contract binding me to Ferrari to the end of 2010, one year ahead of schedule," said Kimi Raikkonen. "I am very sad to be leaving a team with which I have spent three fantastic years, during which time I won plenty of races. Together, we have won 50% of the world titles in that period and I managed to take the Drivers' title in 2007, thus achieving the target I had set myself at the start of my career. I have always felt at home with everyone here and I will have many happy memories of my time with the team."
Other stories for SEPTEMBER 30, 2009