APRIL 24, 2023
Allison returns to top Mercedes role
Just two weeks after denying the rumours, James Allison is indeed returning to a highly-prominent role at Mercedes.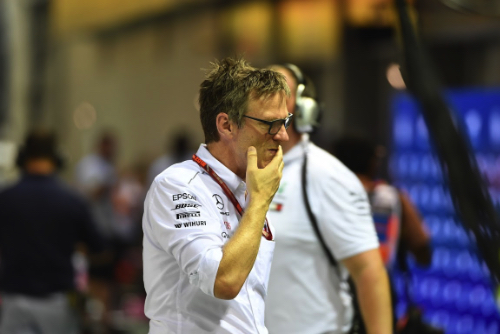 Just two weeks after denying the rumours, James Allison is indeed returning to a highly-prominent role at Mercedes.
Earlier in April, team boss Toto Wolff denied speculation the team was losing faith in Mike Elliot and may reinstate Allison as the full-time technical director.
Late in 2021, Allison took on a new role in America's Cup yacht racing, even though until just weeks ago he was still involved in "discussing the team's long-term strategy".
But now, Auto Motor und Sport confirmed new reports that Briton Allison, 55, actually did return to the prominent role of technical director three weeks ago.
"Mike Elliot will take over from Allison as chief technical officer," correspondent Tobias Gruner said.
The move follows Wolff's frank admission that the 'no sidepods' concept of 2022 and 2023 had proved a failure.
"Under Mike's leadership," Wolff is now quoted as saying, "we undertook a review of our development department.
"Our focus is on building the best car and putting together the best team to develop that car," the Austrian explained. "It's all about figuring out how everyone in the organisation can best leverage their strengths."
Mercedes confirmed to Auto Motor und Sport that the Allison-Elliot role swap "came into effect a few weeks ago".
"We have reversed the roles," Speed Week quotes Wolff as saying.
"Mike thought James was more of the gladiator type on the field, while he (Elliot) is more suitable for improving the technical structure.
"I give Mike credit for suggesting this move himself," Wolff added.
However, Allison will maintain his involvement in Mercedes team shareholder and sponsor Ineos' Team UK Britannia America's Cup project.
But now as Allison's replacement as chief technical officer, 48-year-old Elliot will be tasked with "bringing the factory up to the best possible standard, both technically and in terms of personnel".
Additionally, chief designer John Owen will hand over certain administrative tasks to his deputy Giacomo Tortora, including bookkeeping for the budget cap.
"In the future, he will be able to devote more time to his main task, which is to design the car," Gruner said.
Meanwhile, Corriere dello Sport claims that after a similar struggle to perform so far in 2023, Ferrari has poached two more unnamed Red Bull engineers.
(GMM)