JUNE 14, 2009
A good day for the French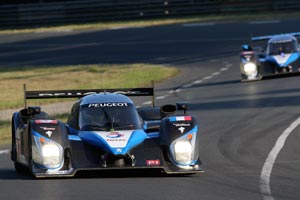 © Terry Griffin
Peugeot scored a 1-2 at Le Mans on Sunday, victory going to Marc Gene, Alexander Wurz and David Brabham after they had led for three-quarters of the event. The early pace had been set by their team-mates Franck Montagny, Sebastien Bourdais and Stephane Sarrazin, but a wheel-bearing failure dropped the car down the order and the trio had to make up two laps to finish second. They were obviously intending to win but Peugeot management declared that the cars should not race in the final laps and the faces of Bourdais and Montagny in particular betrayed their discontent with that decision. The third factory Peugeot of Nicolas Minassian, Christian Klien and Pedro Lamy finished sixth after was involved in a crash in pitlane with the privately-entered Peugeot of Pescarolo Racing. Lamy has to complete an entire lap on the rim and this caused massive damage to the car and it rejoined seven laps down.
Third place went to Audi, which has dominated the race for so many years, with Tom Kristensen, Allan McNish and Rinaldo Capello driving.
Fourth place went to the Aston Martin Lola of Tomas Enge, Stefen Mucke and Jan Charouz, while fifth went to ORECA's trio Olivier Panis, Nicolas Lapierre and Soheil Ayari, a fine showing considering that the AIM-engined prototype is new and undeveloped.
Victory in LMP2 went to the Essex Racing Porsche RS Spyder of Emmanuel Collard, Casper Elgaard and Kristian Poulsen, while Corvette Racing again won the GT1 Class with Johnny O'Connell, Jan Magnussen and Antonio Garcia. GT2 was won by the Ferrari F430 of Pierre Kaffer, Jaime Melo and Mika Salo.
Other stories for JUNE 14, 2009