NOVEMBER 5, 2008
A change of emphasis for Ron Dennis?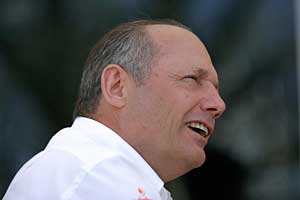 © The Cahier Archive
McLaren boss Ron Dennis is often rumoured to be leaving McLaren and with Lewis Hamilton's World Championship, the team's first title since Mika Hakkinen's Drivers' crown in 1999, there are once again suggestions that Dennis will be leaving Formula 1. In fact, the 61-year-old has taken more of back seat in F1 this year - and has been much more relaxed as a result - leaving the running of the team to Martin Whitmarsh and Jonathan Neale. Dennis has remained relatively high profile in F1 circles although his actual role has reduced. Given that he has spent more than 40 years in the sport it is hard to imagine that he will give it up completely, but there is no doubt that he has other ambitions for the McLaren group, which he has controlled since 1980.
He is already talking about being more involved in the McLaren P11 programme, which aims to build a new road car to challenge Ferrari for its lucrative F430 market, with the cars retailing at around $200,000, which is considerably less expensive than the McLaren F1 supercar and the more recent Mercedes-Benz SLR McLaren, which retails for around $500,000. McLaren has recently taken on designer Frank Stephenson, the 49-year-old American who made his name at BMW with the X5 and the Mini, before moving to Fiat in 2002 where he worked on both the Maserati MC12 and the Ferrari F430, in addition to the Maserati Quattroporte, the Ferrari 612 Scaglietti, and the Alfa Romeo 8C Competizione and the MiTo. He is now working on the P11 project which is expected to go into production in 2011, after prototypes are revealed towards the end of next year. McLaren intends to have a number of different versions of the car, including a GT model, which will probably race with a V10 engine.
Dennis says that changes are coming but they are not the result of Hamilton's title but rather because the company has always wanted to be more than just a Grand Prix team and has enjoyed considerable success in other areas in addition to racing and building exotix road cars. There is a very successful electronics business, which recently launched an American subsidiary to try to take a share in the lucrative US racing market, plus an applied technologies company that uses F1 ideas and technology in other industries.
Dennis says that he believes it is essential for the company to diversify using the McLaren brand in different ways.
"Over the next few months I will make it abundantly clear what I am doing and why I'm doing it," Dennis said in Brazil. "You are most definitely going to see me at Grands Prix. It is something I like too much to take it out of my life. We do, however, intend to try and match the success of Ferrari and to do that we can't just be a Grand Prix team."
Other stories for NOVEMBER 5, 2008