Spanish GP 1970
Spanish GP, 1970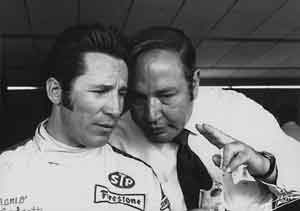 There was a six week break after the South African GP before the F1 teams gathered again at Jarama for the Spanish GP. During the break most of the British teams had taken part in the Race of Champions at Brands Hatch which had been won by Jackie Stewart's Tyrrell March. The field in Spain was little changed from South Africa and with only 16 starters planned there were fights over starting money. In the end it was agreed that 18 of the 23 cars present would start. Lotus ran a couple of extra cars (John Miles in the exciting new Lotus 72 and Alex Soler-Roig in a 49) but neither qualified while the others who failed to make it were Andrea de Adamich in an Alfa Romeo-engined McLaren, Jo Siffert's March which had had technical problems and George Eaton's BRM.

Jack Brabham was on pole with McLaren's Denny Hulme alongside him with Stewart on the outside of the front row. The second row featured Jean-Pierre Beltoise in the Matra and Pedro Rodriguez in the new BRM P153, while the third row was made up of Chris Amon (March), Jacky Ickx (Ferrari) and Jochen Rindt in the Lotus.

At the start of the race Jack Oliver's BRM collided with Ickx's Ferrari and both cars caught fire but both drivers escaped with relatively minor injuries, Ickx suffering a few burns. The cars however were both destroyed and continued to burn for some time. BRM immediately called in Rodriguez to check the suspension as Oliver reported an axle failure. The car was withdrawn.

Stewart had taken the lead and he would remain there all afternoon to give March its first F1 victory in only its second World Championship event. Hulme led the chasers but he retired with ignition problems and Brabham took second for a while until overtaken by Beltoise, although he went out with engine failure on the 32nd lap. Brabham was back in second and after third placed Henri Pescarolo (Matra) went out with an engine problem two laps later, third place went to Surtees. He faded away with gearbox trouble in the mid-race and when Brabham went out with engine trouble on lap 61 it was left to Bruce McLaren to pick up second place with Andretti's STP March finishing third.