German GP 1967
German GP, 1967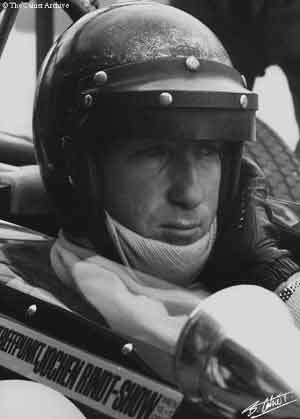 There had been some changes to the Nurburgring to slow the approach of the cars to the pit area but it was clear that this was going to have very little effect on lap times as the cars had developed considerably in the course of the previous 12 months. As had happened the previous year there were a field of Formula 2 cars which included a number of future stars including Jacky Ickx and Jo Schlesser in Matras, Jack Oliver in a Lotus, Alan Rees in a Brabham, David Hobbs in a Lola-BMW and the two wooden-chassised Protos entries for Kurt Ahrens and Brian Hart. The field was much as usual except that there was a second F1 Lola-BMW for Hubert Hahne, although this had a 2-liter engine and so qualified for the F1 class.

Jim Clark was fastest by nearly 10 seconds in his Lotus-DFV with Denny Hulme second in the Brabham-Repco. The third fastest time, amazingly, was set by Jacky Ickx in the F2 Matra although this started on the F2 grid which lined up behind the main grid. Alongside Clark and Hulme, therefore, were the BRM of Jackie Stewart and Dan Gurney's Eagle-Weslake. On the second row was Bruce McLaren in the second Eagle, John Surtees in the Honda and Jack Brabham in his Brabham-Repco.

Clark took the lead at the start while Graham Hill (who had crashed in practice and was down in 13th on the grid) was pushed onto some grass and spun, restarting at the back of the field. Clark stayed ahead of Hulme and Gurney for the first three laps but on the fourth he slowed dramatically, his suspension having buckled. He was out.

Almost immediately Gurney took the lead from Hulme while Brabham was third after McLaren went out with a split oil pipe. Ickx continued to impress by running fifth on the road behind Stewart. The Scotsman overtook Brabham but then retired with a transmission problem and so Ickx moved to fourth, although Amon soon closed up and overtook the cheeky F2 driver. On the 12th lap the Belgian retired when his front suspension collapsed. On the next lap Gurney suffered a driveshaft failure and Hulme took the lead to win from Brabham and Amon.