French GP 1967
French GP, 1967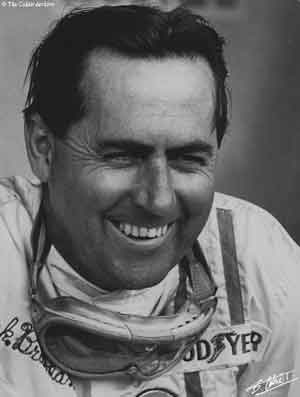 The Automobile Club de France's curious politics resulted in the World Championship heading for the new Bugatti circuit at Le Mans for the 1967 French GP. The track included the famous start-finish line of the classic 24 Hour circuit but the new section (built for the racing school) was too twisty and had none of the grandeur of Reims, Rouen or Clermont-Ferrand. Almost all the top drivers were racing in the Formula 2 event at Reims the previous weekend and looking forward to another F2 race at Rouen the week afterwards and so they were unimpressed by Le Mans. The spectating public stayed away as well and so the entire event lacked atmosphere with only 20,000 people present.

It had been only a month since the first victory of the Lotus-Cosworth 49 but the more developed machinery was still struggling to match the pace of the new engine. Graham Hill took pole in his Lotus with World Champion Jack Brabham alongside and Dan Gurney in the Eagle-Weslake (the winner of the Belgian GP a fortnight earlier) on the outside of the front row. Jim Clark (Lotus) shared the second row with Bruce McLaren who was driving for Gurney for the weekend, his own new car not yet being ready. The third row consisted on Denny Hulme in the second Brabham-Repco, Chris Amon's Ferrari and the Cooper-Maserati of Jochen Rindt.

Hill took the lead at the start of the race with Gurney, Brabham, Clark and Amon chasing him but in the course of the second lap Brabham went ahead and a lap later Gurney slipped behind Clark as well, leaving the two Lotuses to chase Brabham. It was not long before Clark worked his way past Hill and he took the lead on the fifth lap. Hill also overtook Brabham and everything was looking good for Team Lotus. Hill took the lead from Clark on lap 11 but soon afterwards stopped with a transmission failure. Nine laps later Clark stopped with the same problem and so Brabham went back into the lead with Gurney behind him and Amon third, although it was not long before the Ferrari was overtaken by Hulme. On lap 40 Gurney stopped with a fuel pipe problem and so it was a Brabham 1-2 with Amon third but the Ferrari lasted only a few more laps before retiring with a broken throttle cable. Pedro Rodriguez inherited third for a brief moment in his Cooper-Maserati but he had to pit because of split fuel line and so Stewart moved into third and there he stayed until the finish. Chris Irwin was bound for fourth place in the Reg Parnell Racing BRM but he suffered an engine failure in the closing laps and dropped behind Jo Siffert in Rob Walker's Cooper-Maserati.